The Bears defense has excelled at forcing turnovers and scoring touchdowns so far this season, but the unit has not been able to generate a consistent pass rush or stop the run at times.
The lack of success in those areas has contributed to the Bears allowing at least 21 points in each of their first six games for only the second time in the franchise's 94-year history.
Defensive coordinator Mel Tucker is convinced that the key to improvement involves honing basic skills in practice rather than making drastic changes to the system.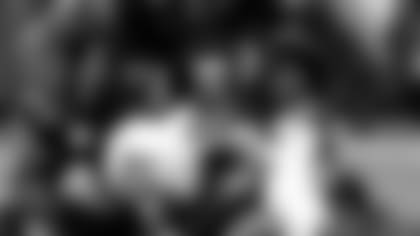 Lance Briggs recorded the Bears' only sack in last Thursday night's win over the New York Giants.
"It all goes back to the technique and fundamentals first and foremost," Tucker said. "Scheme will take care of itself. We'll do what we feel like we need to do to generate pressure on the quarterback and get guys in position in the run game."
The Bears need more production from a defensive line that has accounted for only four of the team's eight sacks. But Tucker knows that all of his players must perform at a higher level.
"It's not just one position," he said. "To get guys to be solid [against] the run, you need excellent d-line play, but the linebackers have to fit and be physical and the secondary needs to support when needed. That's a big part of it.
"Same thing with the rush. It takes all four guys and we have to have great coverage with it. We have to win the one-on-ones when we get the opportunities and play physical together. Those are the things we need to do scheme-wise and fundamentally to get it done."
Injuries have decimated the defensive tackle position. Henry Melton and Nate Collins are out for the season with torn ACLs and Stephen Paea has missed the last two games with a toe injury.
The Bears have filled the void by moving Corey Wootton from end inside to tackle while also starting Landon Cohen, rotating in Zach Minter and signing Christian Tupou. Cohen didn't join the team until Sept. 27, while Minter and Tupou are both undrafted rookies who made their NFL debuts in last Thursday night's win over the Giants.
With a trade unlikely and no defensive tackles growing on trees outside Halas Hall, Tucker knows that he must focus on developing the young players who are already on the roster.
"Our goal is to get better each and every day, and to continue to teach, motivate and develop," Tucker said. "We'll continue to work with these guys. We haven't hit our ceiling with any of the guys that we have now. We feel like some guys have higher ceilings than others, but we all need to get better. We feel like we should get better day-in and day-out, and carry it over into the game."
Bears coach Marc Trestman has complete confidence in Tucker, who has done an excellent job of mixing in blitzes to help boost the pass rush.
"He stabilizes things," Trestman said. "He keeps everything in perspective. His messages are very sound. They're very simple to some degree in terms of what we're trying to get done, but they're all about the same things each and every day.
"He's not about reaching or grasping for things out of thin air. He's about fundamentals and techniques. He's about the assignments of our players. He's about doing it within the framework of a system of football and then creating an environment where the guys will play hard and play with energy, and I think that's what he brings as much as anything."
Under Tucker's guidance, the defense has continued to take the ball away and get in the end zone. The Bears are tied for second in the NFL with 17 takeaways and have scored four defensive touchdowns, increasing their total to a league-high 13 the past two seasons.
"The most empowering thing is that turnovers are most of the game," Trestman said. "If you play smart and create turnovers and take care of the ball, that's the No. 1 factor in final scores. It's not time of possession. It's not yards gained. It's turnovers.
"Turnovers are the most relevant stat, and up to this point we've been very good at it, which has enabled us to be in every game essentially and have opportunities to win in the fourth quarter."