In their first four home games this season, the Bears will face quarterbacks who were selected with the top overall pick in the last four NFL drafts.
After defeating the Colts' Andrew Luck (2012) Sept. 9, they will battle the Rams' Sam Bradford (2010) this Sunday before taking on the Lions' Matthew Stafford (2009) in a Monday night game Oct. 22 and the Panthers' Cam Newton (2011) Oct. 28.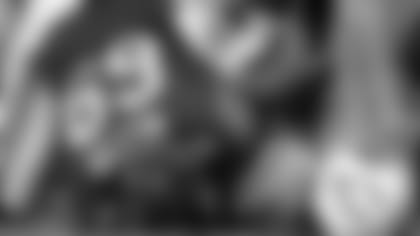 Henry Melton recorded two sacks of Andrew Luck in the Bears' season-opening win over the Colts.
Of the four young quarterbacks, Bradford has had the most impressive start to the season. After two games, he ranks third in the NFL with a 112.4 passer rating, having completed 71.7 percent of his passes for 508 yards with four touchdowns and only one interception.

"He's got a strong arm," said middle linebacker Brian Urlacher. "He's a big guy. He knows where to go with the football. He gets rid of the football fast as well. He has been sacked a little bit, but those are longer-down situations. He is very decisive with the football. He gets rid of it and he's got a cannon. He's got all the qualities you want in your quarterback."

The Bears know they must continue to generate pressure with their front four on Sunday. They recorded five sacks of Aaron Rodgers in last Thursday night's loss to the Packers and are tied for second in the NFL with eight sacks-with all eight registered by defensive linemen.

"They've done a good job," Urlacher said. "You're not getting sacks every time, but they had pressure on the quarterback a lot as well [in Green Bay], which is good. Rodgers gets rid of the ball quick, so it's hard, and we play cover-two the whole game too, so it is hard to get pressure on him when he is throwing the ball so fast."

Versatile fourth-year lineman Henry Melton leads the Bears and is tied for second in the NFL with three sacks. Since 2011, Melton's 10 sacks are the most among the league's defensive tackles.

"He's young. He's explosive. He is always in the backfield," Urlacher said. "I think he will do a good job. We rotate so many guys up front. I like to say he is going to be great all season long. Hopefully he stays healthy and keeps doing what he is doing. He is a good football player and just creates havoc in the backfield."

Bradford will be facing the Bears for the first time. His favorite target so far this season has been receiver Danny Amendola, who had 15 receptions for 160 yards and one touchdown last Sunday in a 31-28 win over the Redskins. Amendola leads the NFL with 20 catches for 230 yards and 1 TD.

"He is a good receiver," Urlacher said. "You get him matched up one-on-one versus a 'backer or anyone with outside leverage and he is going to run away from them. [Against the Redskins] they had a lot of play-action, a lot of rollouts and stuff and he just got open."

The Bears will counter with playmaking cornerbacks Charles Tillman and Tim Jennings, who have combined to account for four of the team's seven takeaways this season. Jennings leads the NFL with a career-high three interceptions, while Tillman forced and recovered a fumble in Green Bay.

Tillman has now forced 30 fumbles since he joined the Bears in 2003, the most among NFL defensive backs, and he joins retired safety Brian Dawkins as the only players in the league with at least 30 forced fumbles and 30 interceptions since 1991.

The Bears defense will focus much of its attention Sunday on the Rams rushing attack. Starting running back Steven Jackson, a three-time Pro Bowler with seven straight 1,000-yard seasons, is day-to-day with a groin injury, while speedy backup Daryl Richardson, a rookie seventh-round pick from Abilene Christian, provides a different dimension.

"He's really fast," Urlacher said. "He's not as big as Steven; not many guys are. But he's a good change-up for them. He gets downhill in a hurry. He's good on tosses, he catches the ball well. But Steven is the guy that makes them go. If Richardson breaks one, hopefully we'll rally to him. But Steve is a monster."