Improving a struggling defense without their most productive player won't be easy. But that's the task the Bears face after Lance Briggs fractured his left shoulder Sunday against the Redskins.
The seven-time Pro Bowler entered the game at FedEx Field leading the Bears with 59 tackles and eight tackles-for-loss and tied for the lead with two sacks and two fumble recoveries. Briggs was injured in the third quarter while trying to shed a block and tackle Robert Griffin III.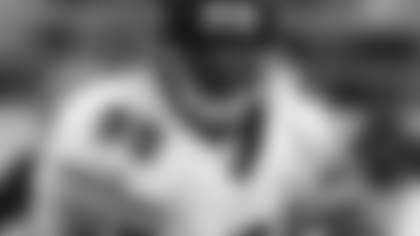 Lance Briggs has been voted to seven Pro Bowls since he entered the NFL in 2003. Click here for a photo journal of last Sunday's Bears-Redskins game.
"He's the best linebacker in the league if you ask me, by far, and just him being out there, his playmaking ability, just everything about him, we're going to miss," said linebacker Blake Costanzo, who replaced Briggs versus the Redskins. "Someone else has to step up, and we've got to continue to play. We've got a lot of games; a long season left ahead of us."
Briggs is expected to be sidelined for about six weeks. The Bears have not yet announced whether Costanzo or rookie Khaseem Greene will fill in for him at weakside linebacker or whether rookie Jon Bostic or veteran James Anderson will assume Briggs' play-calling duties.
"I've seen Lance make some amazing plays since I've been here, and it's been consistent," said cornerback Tim Jennings. "Nobody's perfect out there, but he makes more plays than he leaves out there. So it's going to be tough not having him out there. But hopefully we can get him back as soon as possible so he can continue to play at a high level."
Jennings isn't worried about a lack of leadership on defense during Briggs' absence.
"We still have [Charles Tillman] out there. We have myself. We've got Julius [Peppers]," Jennings said. "We've still got guys out there who are capable of being the leaders out there. But one guy is not going to carry us all. We just need every guy to do their job and be where he's supposed to be to pick up the slack now that Lance won't be out there with us."
Rest and recovery: The Bears' bye week comes at a perfect time for Tillman, who has been hampered by a knee injury since the second game of the season.
After sitting out against the Giants Oct. 10, the Pro Bowl cornerback returned Sunday, intercepting a Griffin pass early before being forced to exit late in the game due to his knee.
"I want him to be healthy and to play as healthy as he can," said general manager Phil Emery. "Peanut is an example of a professional. If you looked at 'professional' in the dictionary, you'd open it up and there would be Peanut Tillman because he comes ready to play.
"If he can play, he will and he'll play at a very high level. He bounced back; he came back with a pick. At some point he just didn't feel right and he felt that it was best that he not play the rest of the day. He knows himself better than anybody. We completely trust him.
"He's a very important member of this club and our defense, and this week came at a very opportune time for him in terms of rest and recovery."
Good start: Bostic was credited with eight tackles in his first NFL start Sunday in Washington. The second-round pick from Florida became the Bears' starting middle linebacker after veteran D.J. Williams was lost for the season with a torn pectoral muscle against the Giants.
"I thought he had a good performance," said coach Marc Trestman. "He played hard. He ran around. He had his mistakes like other guys did, but for the first start he did not look out of place at all playing that position. He played fast, he was physical, he had some hits, had some tackles. He was around the football. I thought it was a good start for him."
Going Greene: Bostic isn't the only rookie linebacker the Bears are high on. With Briggs sidelined, Greene could also get an opportunity to get on the field sooner rather than later.
"He's a guy with a good future," Emery said. "He's worked extremely hard. If you remember when he came into camp, he was just a little bit heavy and he's taken all that off of him. He studies. he works hard at the game. There have been only positives with Khaseem and when he's ready to play, he'll be out on the field."