Rejuvenated after a week off, the Bears defense is gearing up to face Buccaneers quarterback Jameis Winston Sunday in Tampa.
After being selected with the No. 1 overall pick in the 2015 NFL Draft, Winston passed for 4,042 yards and 22 touchdowns last season as a rookie. The Florida State product is performing even better this year, according to Bears defensive coordinator Vic Fangio.
"He's improved a lot," Fangio said. "He was a good quarterback last year in his rookie season. You could see the maturation process going on. He's very confident. He's got good quarterback instincts. He's very elusive in the pocket."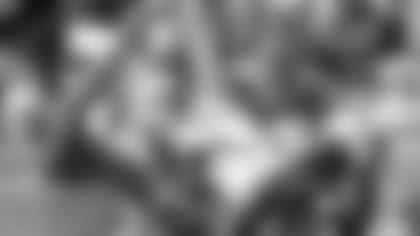 Safety Harold Jones-Quartey intercepted Jameis Winston on a jump ball near the goal line last season.


Fangio compared Winston to Steelers quarterback Ben Roethlisberger in terms of their ability to elude pass rushers and keep plays alive with their feet.
"He's courageous in there, buys time, looking to throw, and yet when he pulls it down he's run for some good first downs for them," Fangio said. "He's got a big arm. He's accurate. I like the guy. I think they've got their quarterback for the future.
"You just watch the guy and you can tell he's feeling more confident. Second year in the league. Second year in the offense. He's developed good karma with his receivers now playing a year and a half. It's an intangible-type thing."
The Bears will face Winston in Tampa on Sunday for the second time in as many seasons. In a 26-21 win over the Buccaneers last Dec. 27, he passed for 295 yards with two TDs and was intercepted by safety Harold Jones-Quartey on a jump ball near the goal line.
Through eight games this season, Winston has completed 59.2 percent of his passes for 2,037 yards with 17 TDs, nine interceptions and an 85.4 passer rating.
The Bears defense benefited from last weekend's bye. Nose tackle Eddie Goldman and cornerback Bryce Callahan returned to practice Monday after being sidelined with injuries, while outside linebackers Pernell McPhee and Leonard Floyd continue to get healthier.
A disruptive force in the middle of the line, Goldman has been sidelined since suffering an ankle injury in a Week 2 loss to the Eagles. After being limited in practice Wednesday, it's unclear whether the 6-4, 320-pounder will be able to play Sunday in Tampa.
"If he can't do it at a good practice tempo then he probably can't do it at game speed," Fangio said. "If he's doing well in practice and he feels good about it then we can take a shot with him. If he's so-so in practice and still hobbling a little bit then maybe not."
Callahan was also limited in practice. The second-year pro, who earned a starting job at cornerback in early October, has been hampered by a hamstring injury. "The last few times he's been out on the field he hasn't felt like he could open up and go," Fangio said.
"He's got good quickness, good speed. He's got good football instincts. I think he's got a good feel for the game. Playing the corner position isn't too big for him. We know he can play nickel, too. That's a possibility. We've just got to get him healthy. He'll be fine if he's healthy."
Good health is also key for McPhee and Floyd. After sitting out the first six weeks of the season following offseason knee surgery, McPhee played sparingly against the Packers before registering a sack and four quarterback hits versus the Vikings.
Floyd, meanwhile, has recorded three sacks in the last two games after missing two contests with a calf injury. The rookie first-round pick turned one of the sacks into a touchdown by stripping the ball from Packers quarterback Aaron Rodgers and recovering it in the end zone.
"Anytime you've got good players healthy that have not been healthy, that's going to help you," Fangio said. "It was good to be able to mix them in there, particularly Pernell. I think he played 25 snaps, which is probably a good number for him at this point.
"When you get guys back, you're looking for some improvement and Pernell has done a nice job in his two games being back. He definitely made some progress from game one to game two. Hopefully he [won't] suffer any setbacks and he'll continue to make some progress and be able to play some more and play better."