The Bears generally haven't played up to expectations this preseason, but they have shown improvement in at least one key area.
After generating just 15 takeaways on defense last season, the No. 1 unit forced turnovers in each of the team's first two preseason games and nearly added a third in Saturday's loss to the Chiefs. Given that the starters have seen limited action, that's pretty good production.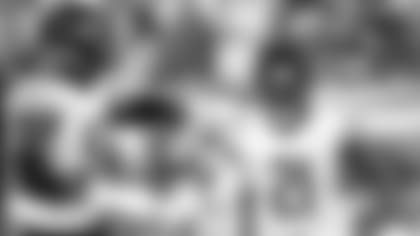 Tracy Porter forced and recovered a fumble against New England in Week 2 of preseason.


In the preseason opener against the Broncos, inside linebacker Jerrell Freeman intercepted a pass that was deflected by cornerback Bryce Callahan. A week later in New England, cornerback Tracy Porter ripped the ball away from running back Brandon Bolden and fell on it.
Against the Chiefs, nose tackle Eddie Goldman stripped the ball from fullback Anthony Sherman, but Kansas City recovered the fumble.
"You've definitely got guys consistently taking chances at trying to get that ball out," said outside linebacker Willie Young. "Whatever we can do to help this team win is what we're all about."
Young believes that the takeaways the defense has produced in the preseason are due in part to players having a better grasp of the system than they did last season when it was installed.
"We've got a couple more guys who are familiar with the scheme this year, including myself and [Lamarr] Houston also, who obviously got off to a slow start last year," Young said. "But we do have a lot more guys in position who are more familiar with the defensive scheme. It allows you to fill a bit faster and with a little more confidence."
Getting closer: It's unclear when outside linebacker Pernell McPhee will return to practice, but he's making progress in his recovery from offseason knee surgery.
"I don't like putting timelines, but I think he's closer than he was last week," said coach John Fox. "We're just going to continue to stretch that out on what he can do, some of the change-of-direction things, which are part of football. But our training staff does an excellent job and when he's healthy we'll have him out there."
McPhee signed with the Bears a year ago in free agency and made an immediate impact, recording 42 tackles, five sacks and seven tackles-for-loss in the first seven games before he was hampered by a sore knee the second half of the season.
Asked what the Bears are missing without McPhee, outside linebacker Willie Young said: "Just the physical mentality that he brings to the game. It's been a grind since his first day out. He's been busting his tail and that's a credit to him because to bounce back from what used to be a career-ending injury is a challenge."
Seeking consistency: With Kyle Fuller (knee) not in uniform Saturday and Tracy Porter exiting the game with a concussion, rookie cornerback Deiondre Hall worked with the No. 1 defense.
The fourth-round pick from Northern Iowa experienced mixed results, getting beat for a 58-yard completion while also intercepting a deflected pass.
"With all young players, those game experiences are priceless," Fox said. "They have to experience some of the good, some of the bad and not making the same mistakes. He's made good progress, but he still needs some more progress."
While Hall got turned around on the 58-yard reception by Chiefs rookie receiver Tyreek Hill, Fox said that the young cornerback wasn't solely to blame.
"He wasn't the lone ranger there," Fox said. "I know it appeared that way. [But] we were vacant a past safety that should've been there as well. It wasn't a good down for the Bears, for sure. He might have gotten crossed up on where the ball was, might have panicked a bit, which happens sometimes, and didn't turn to find the ball.
"Those are things that we'll coach. Our coaches do a good job. [Hall] saw it on tape today. When it happens live, sometimes you don't feel or see it quit as well. Sometimes it's pretty evident. He'll learn from it and move on."