The huge emphasis the Bears place on generating takeaways recently prompted Lance Briggs to joke that he teaches his children to recover fumbles every time they drop a bottle or sippy cup.
That mentality, coupled with a group of talented players who possess excellent ball skills, has helped the Bears defense accomplish an unprecedented feat this season.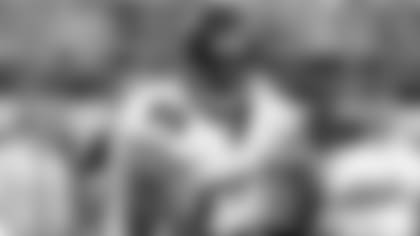 Linebacker Lance Briggs has returned two interceptions for touchdowns this season.
Not only has the unit broke a franchise record by returning six interceptions for touchdowns, it set the mark in a five-game span—in wins over the Rams, Cowboys, Jaguars, Lions and Panthers.

"Scoring has to be just a base part of your mindset," said coach Lovie Smith. "Sometimes you get more takeaways than you do other times. I just know how we coach it. The emphasis is there. Players know about it. That's a given now.

"And we have special guys that know how to do it. I think you get back to that. No one [else] has a Charles Tillman. There's no one out there like him. When you're on the team and you see a guy like that who has a knack for that, others want to do it."

This season Tillman and Briggs have become the first teammates in NFL history to return interceptions for touchdowns in back-to-back games. Tillman is the Bears' all-time leader with eight defensive TDs and Briggs is third with six behind Mike Brown, who has seven.

Tim Jennings was feeling left out before scoring his first NFL touchdown Sunday, returning an interception 25 yards to give the Bears a 20-19 lead en route to a 23-22 win over the Panthers.

The veteran cornerback, who leads the NFL with six interceptions after recording seven in his first six seasons, is stunned that the Bears defense has produced so many touchdowns this year.

"It's surprised me a lot because I've never been a part of something like this," said Jennings, who spent his first four NFL seasons with the Colts from 2006-09 before joining the Bears.

"Coming from Indy, we [didn't] put this many touchdowns as a defense up. It's great to be a part of. I'm surprised a whole lot that we're getting those opportunities and we're making the best of it. That's just something that we work on each and every day at practice, and it shows in the game."

Generating takeaways has become second nature for Jennings and his defensive teammates.

"It's kind of [ingrained] in our head," he said. "I think every man would say the same. Coach [Rod] Marinelli and our coaching staff do a great job of preaching about scoring with the ball with every chance that we get. Offense is not the only [phase] that feels like it can put points on the board."

When scoring a defensive touchdown, the Bears are now 19-2 since 2005, including 4-0 this year. They rank second in the NFL with 23 takeaways, one behind the New York Giants, who have played one more game than the Bears.

According to Jennings, the defense is confident that it can produce a takeaway and get in the end zone when a game-changing play is needed most, as was the case Sunday.

"We feel like if we're in a good position, close enough to make a difference in the ballgame, then our opportunity probably will come," he said. "That's just how we've been playing so far.

"We've been playing lights out, getting a whole lot of opportunities. Our opportunities are going to come and right now ... we're making some plays out there."