While conceding that the Bears' free fall from 7-1 to 8-6 has been "my worst nightmare," Lance Briggs insisted that the defense remains confident heading into Sunday's crucial game in Arizona.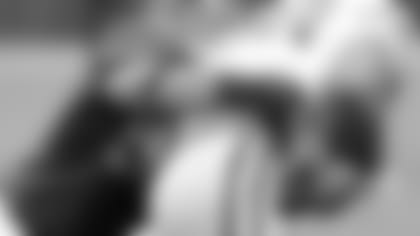 Lance Briggs leads the Bears with 90 total tackles this season.
"We've just got to build on the things we've done well," Briggs said. "Defensively, we've made some plays. We've done some good things. We need to have more consistency in some of the things we've wanted to do, but we know how we're going to approach this game. We've got a good game plan, putting together a good week of practice and just excited to get on the field."
The Bears have allowed 17.1 points per game this season, third best in the NFL, and their defense remains No. 1 in the Aikman ratings, which combines seven different statistical categories. But after generating 28 takeaways while winning seven of their first eight games, they've produced only nine takeaways in losing five of their last six contests.
"The biggest thing for us defensively is we have to get back to what we were doing weeks ago," said defensive end Corey Wootton. "We've got to get turnovers. And if they don't score, they don't win. That's the mindset that we have this week.
"[Opponents] are securing the ball a little more. When they see guys like Charles [Tillman] coming after them, they're putting two hands on the ball because they're aware of that a little bit more. We've just got to do everything we can rallying to the ball and trying to get these turnovers."
Briggs still can't believe the Bears went from battling for a division title and a first-round bye in the playoffs to facing two must-wins and needing help from other teams to earn a wildcard berth.
"In my worst nightmare, this is where I imagined we would be," Briggs said. "Literally, this is my worst nightmare. We still have a chance, though, to get to the playoffs. It can't get any worse than this, I hope, because I haven't had any of those kinds of dreams."
No longer with any margin for error, Briggs and his teammates are concentrating solely on the task at hand and not lamenting what has transpired the past six weeks.
"Let's just focus on beating Arizona and then go from there," Briggs said. "We don't have time to be frustrated. We don't have time to be concerned about the things that have happened already. Our biggest concern right now is beating Arizona. Our postseason, it's all on the line right now."
"It's definitely tough the way we started out the season and what it's come down to now," Wootton added. "But these are must-win games for us to make the playoffs. It starts this week at Arizona, and we've got to do everything we can to get a win."
Defensive tackle Henry Melton and cornerback Tim Jennings could return from injuries. Melton missed last Sunday's game with a chest injury, while Jennings sat out the last two contests with a shoulder injury. Both players participated in practice Wednesday on a limited basis.
"They're two of our playmakers, game-changing players, so to have those guys on the field is very important," Briggs said. "Tim leads the league in interceptions. That right there is a big-time player. And Henry Melton is up there in sacks as well. Those two guys will make a difference this week."
"It would be huge," Wootton added. "They're Pro Bowl-caliber guys, guys that have come along great this year and have helped us out tremendously."
The Bears will face a Cardinals offense that ranks last in the NFL in total yards (264.2 per game) and rushing yards (80.0), and has yielded a league-high 52 sacks. Rookie quarterback Ryan Lindley has started Arizona's last five games, completing 72 of 141 passes for 611 yards with no touchdowns, six interceptions and a 45.0 passer rating.
"He's done a good job for them, stepping up in the pocket," Wootton said. "We watched film on him last week against Detroit. Detroit kind of got out of their rush lanes a little bit and he was able to get outside the pocket and make some plays happen."