Suddenly, the Bears' injury-depleted offensive line is no longer their greatest concern.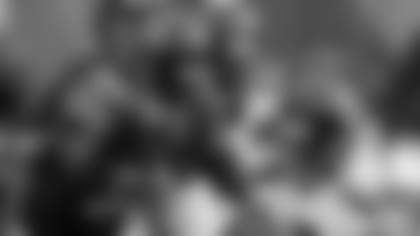 The Bears defense struggled to contain Russell Wilson who rushed for 71 yards on nine carries.
At least not after their vaunted defense was uncharacteristically shredded by rookie quarterback Russell Wilson and the Seahawks in a disheartening 23-17 overtime loss Sunday at Soldier Field.
Unstoppable on the ground and through the air, Wilson engineered touchdown drives of 97 and 80 yards on Seattle's last two possessions to stun the Bears and their partisan crowd of 60,103.
"That hasn't happened to us very often around here," said coach Lovie Smith. "Terrible job I did getting our football team ready. I thought we were ready to go."
Protecting a 14-10 lead, the Bears were seemingly in great shape to maintain their perch atop the NFC North when they downed a punt at Seattle's 3-yard line with 3:40 left in the fourth quarter.
But Wilson marched the Seahawks the length of the field, eventually hitting receiver Golden Tate with a 14-yard touchdown pass with :24 remaining to give Seattle a 17-14 lead.
The Bears tied the game in miraculous fashion on Robbie Gould's 46-yard field goal as time expired after Brandon Marshall had hauled in a 56-yard pass from Jay Cutler.
But the Seahawks won the game on the first possession of overtime after winning the coin flip as Wilson capped a 12-play, 80-yard drive with a 13-yard TD pass to receiver Sidney Rice.
In losing for the third time in four games, the Bears (8-4) slipped into a first-place tie with the Packers (8-4), who beat the Vikings Sunday in Green Bay. The Packers currently own the tiebreaker, however, by virtue of their Week 2 win over the Bears at Lambeau Field.
Chicago's patchwork offensive line played well enough to win as the Bears rushed for 132 yards on 32 carries, allowed only one sack and did not commit a turnover.
Cutler completed 17 of 26 passes for 233 yards with two touchdowns and a 119.6 passer rating, while Marshall had another monster game, catching 10 passes for a season-high 165 yards.
But the Bears defense couldn't contain Wilson, who connected on 23 of 37 passes for 293 yards with two touchdowns and a 104.9 passer rating while also rushing for 71 yards on nine carries.
"Offensively, I thought we were steady and we got a lead," Smith said. "Once you get a lead, you've got to be able to hold a lead at home with our defense. Defensively, we didn't get a lot done. We had opportunities to make some plays there late [and] we didn't."
The Bears had taken a 7-0 lead on Cutler's 12-yard touchdown pass to Earl Bennett midway through the first quarter. The score came after Brian Urlacher ripped the ball away from running back Marshawn Lynch and Kelvin Hayden recovered the fumble at the Seattle 49.
The Bears twice failed to capitalize on excellent opportunities to extend their lead in the second quarter. First, Michael Bush was stopped for no gain on fourth-and-one at the Seattle 15 after Smith opted not to send Gould onto the field for a 33-yard field goal that could have made the score 10-0.
"Some decisions I made really hurt us early on," Smith said. "We should have taken the field goal in a game like that. I felt like we had momentum, wanted to really kind of try to knock them out and get them on their heels a little bit. That was a big play in the game."
Bennett later dropped what should have been a 62-yard touchdown pass. Cutler stepped up in the pocket and threw deep to a wide open Bennett, who turned one way and then another before the ball squirted through his outstretched hands.
The Seahawks tied the score 7-7 on Lynch's four-yard touchdown run with 2:15 left in the first half. The TD came one play after Wilson's 49-yard pass to Tate down the left sideline.
Seattle took a 10-7 lead on Steven Hauschka's 31-yard field goal with :05 left in the half. The kick came after Braylon Edwards' apparent 10-yard TD reception was overturned via a replay review by referee Mike Carey, who ruled that the tip of the ball touched the ground.
The Bears regained a 14-10 lead on Cutler's 12-yard touchdown pass to Forte late in the third quarter, a play that appeared would stand as the game-winner before the Seahawks rallied.
"It's disappointing for all of us," Smith said after the loss. "Thank God we have more games to play to get this bad taste out of our mouths. We're not that type of football team.
"Looking at the big picture, though, we're 8-4. We don't have a lot of time to feel sorry for ourselves. We have the Vikings coming up here quickly [next Sunday in Minnesota], so we're going to look at this video, take the punishment for it and then go from there."