After showing some improvement in recent weeks, the Bears defense played its worst game of the season in Sunday night's 54-11 blowout loss to the Eagles.
The beleaguered unit allowed Philadelphia to score six touchdowns on 10 possessions and amass 514 total yards. The Eagles rushed for 289 yards with both LeSean McCoy (18 carries for 133 yards) and Bryce Brown (9-115) topping the century mark.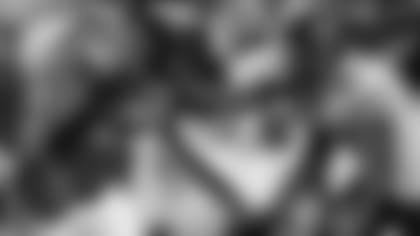 LeSean McCoy stiff arms Bears safety Major Wright during the Eagles' 54-11 win Sunday night.
"There weren't a whole lot of positives to take out of that game," defensive coordinator Mel Tucker said Monday. "It was a very disappointing outing for us. We felt like we took a step back in terms of the run game, which was really disappointing."
The Bears run defense ranks last in the NFL, allowing an average of 161.5 yards per game. With 87 yards on the ground in Sunday's finale against the Packers, the unit will eclipse the franchise record of 2,509 yards permitted in a season, which was set in 1973.
Watching tape of Sunday night's loss to the Eagles was not a pleasant experience for Tucker.
"I think we counted at least 20 missed tackles in the game, which is way, way too many," he said. "You're playing a good offense. They're going to have you spread out and get the ball to people in space and you've got to get a tackle. We didn't do that.
"We had some very, very poor reads on some basic run plays and really took us out of some plays that we thought that we would be able to make. So those things, along with pad level and shedding and things like that, where we thought maybe a week ago we were improving, we didn't see that type of improvement. Last night we actually thought we took a step back."
While Bears defenders have done a better job with run fits over the past month or so, they're still not making as many plays as they should be.
"Sometimes we're in the right place, but we're just not winning the one-on-ones or you missed a tackle," Tucker said "That's a big part of it. Like I said the past couple weeks, it's not so much now knowing where to fit, it's when you get there are you able to shed the block, are you able to finish on the ball, are you able to make the tackle, are you able to get there quickly enough?
"That's also part of it too. So we have to play faster. We have to eliminate the hesitation and continue to coach and work through that as players. That's pretty much what it is."
With Sunday's winner-take-all battle against the Packers looming in less than a week, the Bears have little time to dwell on their performance in Philadelphia.
"We have corrections and we have answers for the plays that we're seeing, what needs to be done and what needs to be corrected and how it needs to be played and taking it from practice to the game," Tucker said. "If we play it one way in practice, we've got to make sure we play the same way in the game. That's pretty much where we are.
"We have to quickly move on to the next game. It's really about us correcting these mistakes and really dialing in. These guys have pretty much all year. That's been their approach. They have typically come back to work very businesslike, very focused, very determined and focused on the next opponent and that's what we have to do. There are no excuses, no explanations.
"It's really just focusing in on the task at hand, one week, one game, taking it one day at a time, getting ready for this next one. It's going to be a huge challenge for us, but that's where we are."