JACKSONVILLE, Fla. - The blueprint the Bears followed to record a lopsided win Monday night in Dallas was so effective that they repeated it almost to the letter Sunday in Jacksonville.
For the second straight game, Charles Tillman and Lance Briggs returned interceptions for touchdowns and Jay Cutler threw two TD passes as the Bears broke open a close game with a dominant second-half performance in a 41-3 rout of the Jaguars at EverBank Field.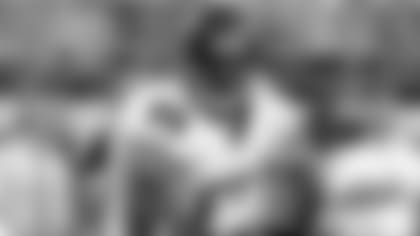 Lance Briggs returns an interception for a touchdown for the second straight game in Sunday's 41-3 win over the Jaguars.
Six days after outscoring the Cowboys 24-3 to open the second half, the Bears outscored the Jaguars 38-0 in the second half Sunday in balmy Jacksonville, snapping a 3-3 halftime tie.
"That was not how we wanted to start the football game," said coach Lovie Smith. "We know it's tough. After a Monday night game, going on the road normally that team has trouble and we did early on. The heat, I would like to think it didn't bother us an awful lot. But we weren't as sharp as we needed to be. But thank God you play two halves."
In cruising into their bye week, the Bears (4-1) held decisive advantages over the Jaguars (1-4) in total yards (501-189), first downs (26-10) and time of possession (36:00-24:00).
On the opening possession of the second half, Robbie Gould's 31-yard field goal gave the Bears a 6-3 lead, capping a 17-play, 76-yard drive that burned 9:18 off the clock.
Two plays later, Tillman picked off an underthrown Blaine Gabbert pass and returned it 36 yards for a touchdown to give the Bears the momentum and a 13-3 lead.
"It was big," Cutler said of Tillman's TD. "We had a good drive. We would have liked to have got it in the end zone there. We settled for three and then for 'Peanut' to turn around and make another heck of a play back-to-back weeks, it speaks a lot for the way this defense is playing, the whole group. They're playing extremely well."
Cutler increased the Bears' lead to 27-3 with touchdown passes of 10 yards to Alshon Jeffery on the first play of the fourth quarter and 24 yards to Brandon Marshall with 8:37 remaining.
Four plays after Marshall's TD, Briggs intercepted a pass that deflected off running back Maurice Jones-Drew and returned it 36 yards for a score, widening the margin to 34-3.
Tillman and Briggs became the first teammates in NFL history to return interceptions for touchdowns in back-to-back games. It also marked the first time the Bears have brought back interceptions for TDs in three straight contests in franchise history.
In helping the Bears record three straight wins, the opportunistic defense has scored five touchdowns while allowing only two TDs.
"I know they know how important it is to take the ball away," Smith said. "There's an emphasis on it, and after a while you see one guy doing it and you want to join in on that action. It's discouraging to the offense when you get it in [the end zone]."
After a sluggish start, Cutler completed 23 of 39 passes for 292 yards with two touchdowns, one interception and an 88.8 passer rating. He repeatedly went to Marshall, who had a season-high 12 receptions for 144 yards and one touchdown.
No other Bears player caught more than two passes in the game.
"That's why we brought him here; to be that guy, to be that No. 1 receiver," Cutler said. "Whenever he gets one-on-one, we expect him to win a hundred percent of the time, hands down. If he comes to the sideline and says, 'I just didn't win,' I say, 'why not?' He's that guy and he's living up to it."
Matt Forte provided a spark on the ground, rushing for a season-high 107 yards on 22 carries. Forte and Marshall gave the Bears a 100-yard rusher and receiver in the same game for the first time since Nov. 12, 2006 in a 38-20 road win over the New York Giants.
Reserve running back Armando Allen closed the scoring with a 46-yard TD run with 1:49 to play.
With the win, the Bears remained tied with the surprising Vikings (4-1) atop the NFC North, ahead of the Packers (2-3) and Lions (1-3) On Sunday, Minnesota beat the Titans 30-7, while Green Bay blew a 21-3 lead in losing to the Colts 30-27.
The Bears recorded their largest margin of victory since a signature 44-0 pasting of the Cowboys on Nov. 17, 1985 and scored the second most points (38) in the second half in franchise history.
It certainly didn't look like either of those accomplishments was possible in the first two quarters.
"I had some concerns in the first half," Smith said. "We weren't playing as fast as we normally do. We were a little sluggish. It was a concern, but we've seen how these guys have played. We've been around them a long time. They normally respond."