With five opening-day starters slated to miss Monday night's road game against the New York Jets due to injuries, the Bears' depth will be tested on both sides of the ball.
Linebacker Shea McClellin (hand), defensive tackle Jeremiah Ratliff (concussion), center Roberto Garza (ankle) and left guard Matt Slauson (ankle) were ruled out of the contest Saturday. Special teams standout Sherrick McManis (quad) also will not play.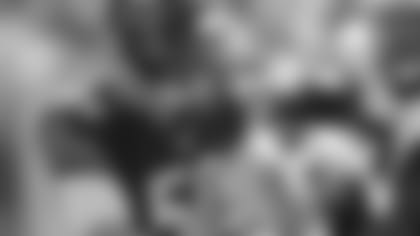 Bears linebacker Shea McClellin will miss Monday night's game against the Jets with a hand injury.
They join cornerback Kyle Fuller, who was placed on injured reserve Monday after suffering a torn right triceps in last Sunday night's comeback win over the San Francisco 49ers.
A converted defensive end, McClellin performed well in last weekend's victory, recording seven tackles and one sack, but injured his hand in practice Thursday.
"It's very disappointing," coach Marc Trestman said Saturday after practice. "We're disappointed for him No. 1 because he has been getting better and we've watched him work so hard to learn a new position and get his body the way he's gotten it to play the position. We're hopeful and we know he'll be out this week and we'll see where we are next week."
Ratliff will also miss the game after exiting last Sunday night's win with a concussion.
"It's tough, but next man's got to come up," said defensive end Jared Allen. "Unfortunately, that's part of this game. You get injuries and things happen. Coach has done a good job of preparing our young guys to play that extra role. Those are big shoes to fill, but we've got to fill them."
With Ratliff out, rookie defensive tackles Ego Ferguson and Will Sutton are expected to see expanded playing time. Allen has been impressed with his two young teammates, especially the poise they displayed under pressure late in the Bears' stunning victory over the 49ers.
"The game didn't seem too big for them," Allen said. "Sometimes that can be a problem with young guys, where they sort of lose their minds out there and don't remember their technique and fundamentals. But I think they've been doing a great job on that."
For the second straight week, center Brian de la Puente and left guard Michael Ola will start in place of the injured Garza and Slauson, respectively.
Asked how the offense has made a seemingly smooth transition with two backup linemen, coach Marc Trestman said: "I think it starts with talent evaluation by our personnel department. We've got a background with Brian, that's No. 1, and we've got toms background with Michael as well.
"They've taken to the coaching. Pat [Meyer] and Aaron [Kromer] have done a great job of bringing them along, and they're in a great room with guys who communicate and help each other out."
Pro Bowl receivers Brandon Marshall (ankle) and Alshon Jeffery (hamstring) both practiced on a limited basis Saturday and were listed as questionable on the injury report. They had the same status last week and played against the 49ers, with Marshall catching three touchdown passes.
"Alshon had a full day's work [Friday] and looked like he's ready to go," Trestman said. "We'll just see where we are with Brandon and how he feels [Sunday]. He got a little bit of work [Saturday]. He got some walkthrough work and very limited practice work, but he got some work and we'll see how sore he is [Sunday] and what he's got to do to get himself ready for the game on Monday night."
In other injury news, defensive end Trevor Scott (foot) did not practice Saturday; while Allen (back), safety Chris Conte (shoulder) and receiver Josh Morgan (groin) all worked out without restrictions and were listed as probable.
For the Jets, cornerback Dee Milliner (ankle/quad) is doubtful; receiver Eric Decker (hamstring) is questionable; and seven others are probable, including right guard Willie Colon (calf), linebacker Quinton Coples (elbow), running back Chris Johnson (ankle) and center Nick Mangold (shoulder).