After recording only one sack in each of their first two games this season, the Bears are determined to generate more pressure on the quarterback Sunday night in Pittsburgh.
"Pass rush is something we need to improve on," said defensive coordinator Mel Tucker. "We need to finish in our rushes. We were getting closer, but no cigar. This week is about finishing."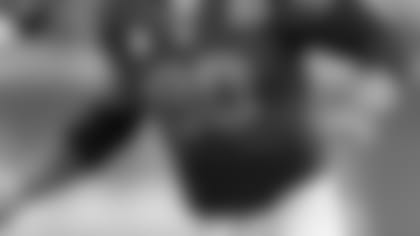 Julius Peppers has been voted to the Pro Bowl in each of his first three seasons with the Bears.
It won't be easy against Steelers quarterback Ben Roethlisberger. The two-time Super Bowl champion excels at escaping the pocket and making plays with his feet—something that the Vikings' Christian Ponder did against the Bears last Sunday at Soldier Field.

"They've got a Hall of Fame quarterback who has the ability to extend plays like no other quarterback to my recollection," said coach Marc Trestman. "We have to be relentless to the ball. We have to keep our contain lanes. That's one of the areas we've got to improve on.

"Last week Ponder got outside the pocket two or three times. We've got to do a better job of containing it, and we certainly have to do it with Ben because he's really the best at it. There are a lot faster quarterbacks in the league, but I don't know that there's been one any better over the last decade at extending plays under the chaos of a pass rush better than Ben Roethlisberger has done it and made bigger plays than he has over his career."

Another challenge that Roethlisberger presents is his size. At 6-5 and 241 pounds, he's built more like a tight end than a quarterback and often completes passes with defenders draped all over him.

"It's one thing to get there," said defensive end Julius Peppers. "But when you get there you have to get him down and we're going to need a group effort to do that."

Tucker is very familiar with Roethlisberger, having faced the quarterback twice a year from 2005-08 while serving as a defensive assistant with the Cleveland Browns.

"He's big, he's strong and he's not afraid to stand in there," Tucker said. "He shakes guys off. It usually takes more than one guy. The first guy usually doesn't get it done, so we've got to get multiple guys on him. We have to keep him in the pocket, coordinate a pass rush; everyone working together. That's going to be huge. And then we have to have the coverage behind it.

"He's one of the tougher guys to get down on the ground. And even when you're hanging on the guy, he still makes a throw down the field. And when he scrambles, he's looking to throw. He can throw it 60 yards on the run. He's a rare guy in that way. It's going to be a huge challenge for us."
The Bears' pass rush will be buoyed by a healthy Peppers, who was sent home from Halas Hall last Thursday with flu-like symptoms and was even sicker during the Vikings game, according to Trestman. The perennial Pro Bowler practiced without limitations on Wednesday.
"He looked good moving around," Tucker said. "That's a positive for us. I feel real good about him. The group as a whole, we feel like there are some things we need to work on. We're encouraged that we've done some good things, but at the end of the day we need to get better.
"We all know that, and that's with the defensive line, the linebackers and the secondary. It's going to take all of us working together to get to where we need to get to. It's about getting better. That's the mantra this week."
Peppers is convinced that the pass rush will be better in Pittsburgh.
"This week it's going to be improved," he said. "We're just going to continue to work. We're not going to do anything different. We're going to do what we've been doing for four years since I've been here and everything is going to work itself out."