After two historically poor seasons and a slow start this year, the Bears defense has shown steady improvement the last two games and intends to keep getting better.
The unit has permitted three touchdowns and compiled six sacks the past two weeks in a loss to the Seahawks and win over the Raiders after allowing nine TDs without recording a sack in back-to-back defeats to the Packers and Cardinals.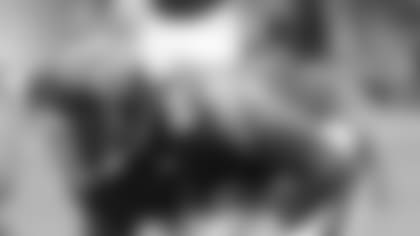 Jarvis Jenkins has recorded three sacks the past two games.


"Our defense has been progressing each and every week," said veteran defensive coordinator Vic Fangio. "We've been getting better and better and had some solid play in there in spite of the three losses. But we are improving."
The defense yielded just 243 yards in last Sunday's win over the Raiders. The last time the Bears permitted fewer yards in a game was in 2012. The past two seasons the defense allowed the most and second-most yards in Bears history with 6,313 in 2013 and 6,033 in 2014.
"We've grown over these last couple weeks," said defensive end Jarvis Jenkins, who has recorded three sacks the past two games after mustering only two in 46 previous NFL games.
"We are tackling better. It's become easier for us because we are getting the schemes as far as what coach Fangio is giving us during the week. We're watching a lot of film and knowing what we are getting during the week. It's been successful."
Holding the Raiders to two field goals in the second half of last Sunday's game enabled the Bears to rally from deficits of 17-16 and 20-19 en route to a 22-20 victory. It was the first time the Bears did not allow a second-half touchdown in nine games dating back to last November.
The mini-resurgence on defense has been led by outside linebacker Pernell McPhee, who registered the first interception of his five-year NFL career against the Raiders.
With two sacks the previous week in Seattle, McPhee is one of only three NFL players with at least two sacks and one interception and he's the first Bears player to accomplish the feat in the first four games of a season since Lance Briggs in 2005.
"[McPhee] played well on Sunday and he's done a decent job all year long," Fangio said. "There are certain aspects in the games he excels in and they came to the surface this past week. And we expect him to be one of our good players not only this year but moving forward."
McPhee produced an impact play against the Raiders when he dropped Roy Helu Jr. for a one-yard loss on third-and-one late in the game. Oakland followed by kicking the go-ahead field goal with 2:05 remaining, but McPhee's clutch stop gave the Bears enough time to set up Robbie Gould's game-winning 49-yard field goal with :02 to play.
"Just watching these past couple of games, [McPhee] is recognizing plays fast," Jenkins said. "Like that third-and-one play that he recognized. I remember him making that same play at practice. I guess practice makes perfect as they say."
Although McPhee is in his first season with the Bears, he has already emerged as a team leader.
"He knows that he'll get the ball rolling," Jenkins said. "He comes out with a positive energy trying to get us going and that's been working. Anytime you are confident in what you are doing and how you are playing, that rubs off on other people."
The Bears knew there would be a learning curve on defense with new coaches teaching a new scheme to new players; seven of the 11 starters against the Raiders are in their first season with the team. But the unit appears to be in the process of developing some cohesiveness.
"We're playing better as a unit, starting to make more plays and getting a better grasp not only of the defense but of each other, who we're next to and how we can play off of them," Jenkins said.
"It's all about chemistry," said outside linebacker Sam Acho, another free-agent acquisition who's in his first year with the Bears. "We have a lot of new players; guys we just picked up, traded for, and so on. But we're starting to gel together as a unit and understand each other better."