There are many reasons why the Bears are 3-12—their worst record after 15 games in a season in franchise history—but one is more glaring than the others.
With nine giveaways and zero takeaways in their last two games against the Packers and Redskins, the Bears are now minus-16 in turnover ratio this year.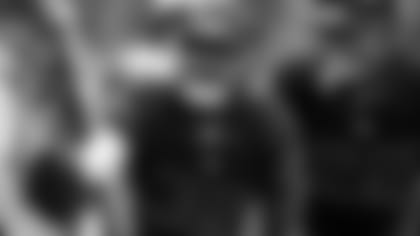 Bears cornerback Deiondre' Hall celebrates after making an interception against the Lions earlier this season.


"Minus-16 is a big reason we're sitting here at 3-12," coach John Fox said Monday at Halas Hall. "It's not a good formula when you're minus-16."
The Bears have generated an NFL-low 10 takeaways this season—including none in five of their last six games—and are virtually assured of eclipsing the franchise low of 17 they set last year. In addition, their seven interceptions are one shy of their all-time low of eight also established last season.
"The more playmakers you have, I think maybe the more consistent you can [produce takeaways]," Fox said. "That's something that we have to figure out and figure out quickly."
While the defense has picked off only seven passes all season, Matt Barkley has thrown eight interceptions in his last two games. He threw five picks in Saturday's 41-21 loss to the Redskins, the most by a Bears quarterback since Jay Cutler also had five in a 2009 defeat to the 49ers.
"Our guys are still competing," Fox said. "They're working hard. They're practicing hard. There's no splintering. You hear that word sometimes from the outside. Our issue last week, when you look at scores and records, was minus-five in turnover ratio."
Floyd in protocol: Fox revealed that outside linebacker Leonard Floyd attended meetings Monday but remains in concussion protocol after suffering his second concussion Saturday in five weeks.
Asked if the rookie first-round pick from Georgia will play in Sunday's season finale in Minnesota, Fox said: "I really can't comment, other than he's in the protocol. They don't want us giving projections or answering that question."
Fox called Floyd, who has seven sacks in 12 games this season, "a very talented player who has a bright future." Asked if the rookie needs to learn to avoid leading with the crown of his helmet, Fox said: "I think he's just a young player learning how to play. And it's something that I think the more he does it, the better he'll understand. It's hard to hit what you can't see."
Inside linebacker Jerrell Freeman said that he's concerned "about anybody picking up concussions, especially a promising prospect like [Floyd]."
"I don't want to see anybody get hurt like that," Freeman said. "He's just being an unselfish guy, throwing his body in there. That's just how he plays. It's good to have a first-round pick that acts like that, but you've got to get him back on the field. He's a talent."
Pride and respect: Although the Bears will have nothing at stake in Sunday's finale in terms of the playoffs, Fox isn't worried about a lack of motivation.
"We're evaluating guys and I think our guys understand that," he said. "At this stage, there are a lot of [teams] who have nothing left to play for. It's about pride and respect. And it's a division opponent at their place. They have struggled of late. I think they've won two of their last 10. So it's going to be who executes. And it's a game in the NFL."
Just in case the message begins to fade this week, Freeman intends to remind some of his young teammates that they still have a job to do.
"If you're not going to do it, they'll bring somebody else in that will," Freeman said. "You've got to have that attitude and go out there and go to work and make sure you're doing everything you need to do to prepare and try to put your best foot forward when you go out on the field."
Roster move: The Bears on Monday waived offensive lineman Cornelius Edison.
Edison entered the NFL with the Bears last year as an undrafted free agent from Portland State. He has appeared in six games this season, including last Saturday's loss to the Redskins.