In the seventh of nine position previews in advance of training camp, coach Bob Babich discusses Bears linebackers with ChicagoBears.com senior writer Larry Mayer:
LM: There's not a whole lot of new ground to cover with perennial Pro Bowlers Brian Urlacher and Lance Briggs. Do you think they're still the same great players they've always been?
BB: "I absolutely think so. I think they have plenty of years left. They played at a high level last year and we expect them to play at a high level this year. They played fast and they played physical. It's great having those guys. They've been in the system going on their ninth season now and it's just a tremendous plus for us."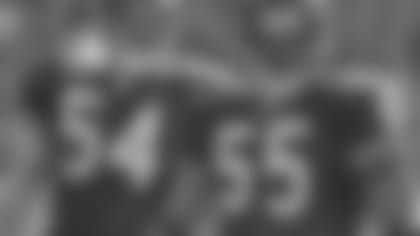 LM: What makes Brian and Lance so good?
BB: "Both of them are extremely good playmakers. When they're put in position to make plays, they have the ability to do it, whether it's an interception, stripping the football, making an open-field tackle or running down a fast guy. Last year Lance had some big hits. Brian is an extremely intelligent player. He is definitely the quarterback of the defense. When he's in there, we have no concerns about getting lined up and making sure everybody's in the right spot. Brian understands everybody's position; what they're supposed to do and how they're supposed to do it."
LM: How do Brian and Lance feed off each other?
BB: "At this point, it's just a natural thing. They understand where each other has to fit, and if for some reason one of them doesn't have the proper fit, the other one understands how to fit to fix things. They both understand the defense extremely well and are able to make up for possible physical or mental mistakes because they've played together for such a long time."
LM: How would you assess strongside linebacker Nick Roach?
BB: "Nick is an extremely valuable player to our defense. He's smart. This is his sixth year in the system and he understands all three positions. We could throw Nick in at [middle linebacker]. We could put him in at [weakside linebacker] in nickel and base. So Nick gives us flexibility. He played extremely well last year and we look forward to him getting better this year."
LM: What have your impressions been of free-agent acquisition Geno Hayes?
BB: "Geno has come in and done a very good job. He is picking up the system extremely well. He's working hard to pick it up, which is impressive. He wants to do the right thing, which obviously is a big part of being successful. That's been something we've been impressed with."
LM: How well is second-year pro J.T. Thomas progressing?
BB: "J.T. is having a good offseason. He's learning. Not only did he miss all of last season, he didn't get to practice. He did sit in meetings, but he didn't get to actually work through the things we talked about on the board. He's doing a good job and we're looking forward to him progressing."

LM: What are your thoughts on second-year pro Dom DeCicco, who spent part of the offseason working with the first-team defense at middle linebacker in place of Urlacher?
BB: "That has done nothing but help Dom. He missed all of last offseason because of the [NFL lockout]. But he has grown an awful lot this offseason and he's going to do nothing but get better. He also does a great job on special teams."[ ](http://www.phoenix.edu/campus-locations/il.html?utmsource=Story&utmmedium=instory&utmcampaign=300x100)
LM: Free agent-acquisition Blake Costanzo also excels on special teams. What have your impressions been of him as a linebacker?
BB: "He's done a good job trying to learn the defense in a short period of time. He's picked it up fairly well. He hustles and plays extremely hard."
Roster move: The Bears on Tuesday released running back Alvester Alexander and agreed to terms on a one-year contract with running back Lorenzo Booker.
Booker, drafted in the third round (71st overall) of the 2007 NFL draft by the Miami Dolphins, spent the last two seasons with the Minnesota Vikings primarily as a kick returner and third running back. In two years with the Vikings the former Florida State Seminole returned 37 kickoffs for 879 yards (23.8 ypr) with a long return of 68 yards.
Booker had 13 carries for 52 yards for the Vikings in 2011 along with eight receptions for 82 yards. His most productive season as a running back was as a rookie in 2007 when he gained 125 yards on 28 carries and hauled in 28 receptions for 237 yards for the Dolphins.
Alexander was signed as an undrafted rookie free agent following this year's draft out of Wyoming.