The Bears reported to training camp in Bourbonnais Wednesday, optimistic that they will make major strides in their second season under coach John Fox.
"There are a whole lot less questions this year than there were last year," Fox said during a press conference at Olivet Nazarene University. "This thing is fluid. The roster changes. A lot of things change throughout the process of an NFL season, which starts in training camp. But I feel way more comfortable compared to a year ago."
In his two previous stints as an NFL head coach, Fox's teams made vast improvements from Year 1 to Year 2. After going 7-9 in his first season in Carolina in 2002, the Panthers went 11-5 and reached the Super Bowl in 2003. In Fox's first two years in Denver, the Broncos improved from 8-8 in 2011 to 13-3 in 2012.
"It's like the first year of anything, whether it's your job, my job, a player's job," Fox said. "It's like when I was a kid and we'd go on a trip and it seemed a whole lot longer on the way there than it did coming home. The reason is that you've seen it before, you've been there before. So I think it's just kind of human development."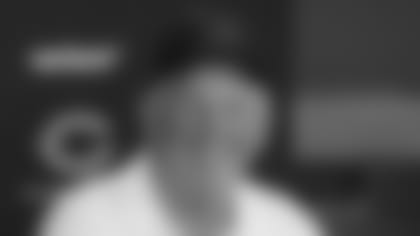 John Fox has compiled a 125-99 regular-season record in 14 years as an NFL head coach.


Fox's history isn't the only reason the Bears are excited about the 2016 season. During the offseason they upgraded their defensive front seven and bolstered their offensive line. In addition, receivers Alshon Jeffery, Kevin White and Eddie Royal all returned to the practice field after being hampered by injuries in 2015.
The offense has a new coordinator in Dowell Loggains, who replaced Adam Gase. But the unit figures to benefit from utilizing virtually the same playbook as last season when Loggains was the team's quarterbacks coach
"Just Year 1 to Year 2, I think there's going to be less thinking," said quarterback Jay Cutler. "I think we have a better idea of what we like in the offense, what we don't like in the offense, where we need to improve and what we need to add."
The area that appears to be most improved on the Bears roster is the front seven. During the offseason, general manager Ryan Pace and his staff signed inside linebackers Danny Trevathan and Jerrell Freeman and defensive end Akiem Hicks in free agency and selected outside linebacker Leonard Floyd with the ninth pick in the draft.
Asked Wednesday how the current front seven compares to last year, Cutler said: "In OTAs, I felt it was night and day. A lot more speed over there, a different attitude, a different swagger to them, especially [Trevathan and Freeman]. Those guys are flying around. They're making the football team better."
Pro Bowl right guard Kyle Long agreed that the new-look defense has helped change the culture at Halas Hall by bringing a new attitude and personality to the Bears.
"The defense has done a great job instilling that in the rest of the locker room," Long said. "It permeates that locker room. We'll get our [butt] kicked in practice the whole day as an offense and we'll come in and we'll feel decently good about it because we know our defense is really good, and we haven't had that before, so we're excited."
After leaving the Super Bowl-champion Broncos to sign with the Bears, Trevathan was impressed with what he saw from the defense during offseason workouts and is eager for the unit to pick up where it left off.
"I saw a lot of attitude and hustle and determination," Trevathan said. "I saw us working and communicating a lot. Those things you want in a great defense. Our attitude is right where we need to be. We've got some work to do, no doubt about that. But we've got some great guys that really want to work and be great.
"That's what you want heading into camp."