The Bears concluded the Bourbonnais portion of training camp on a hot and humid Sunday with a physical and at times chippy practice.
The intensity, no doubt combined with the heat, led to multiple skirmishes. Defensive lineman Jeremiah Ratliff and center Will Montgomery were involved in a couple of tussles, and tight end Dante Rosario angrily slammed his helmet down after getting pushed to the ground by rookie safety Adrian Amos following a reception.
"We made it very, very competitive," said coach John Fox. "This was not one of those non-padded, easy, exit final days of camp. We kind of warned them and alerted them. Stuff happens in camp."
The Bears spent two-and-a-half weeks at Olivet Nazarene University—three or four fewer days than the past several years. After an off day Monday, players will practice Tuesday at Halas Hall and then head to Indianapolis, where they will work out with the Colts Wednesday and Thursday in advance of Saturday night's preseason game at Lucas Oil Stadium.
Fox wasn't making any apologies for conducting such a demanding practice on the final day in Bourbonnais.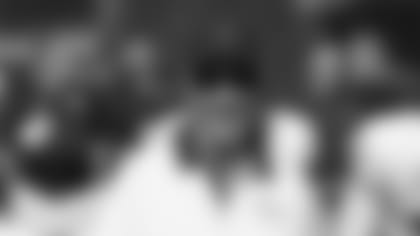 John Fox at training camp practice.
"We're still at camp," said the Bears coach. "We've still got a lot of work to do to find out who the tough guys are. The only way to find out is practices like that.
"It's real simple, you just get better every day. You don't just put it on cruise control. You don't pedal downhill so-to-speak. It's a process of a lot of hard work. We want to be a smart, tough, better-conditioned football team. You have to drill in practice that to see how that relates when you play games."
Players appreciate the identity Fox is trying to create with the Bears.
"Today was not an easy day at all," said receiver Eddie Royal. "It was hard. We had been through a game. A lot of guys are still sore and just fighting through that. You like to see your team fight through the hard days at camp and the preseason. Just getting through that, that kind of shows you how tough your team is."
Fox was pleased with what the Bears accomplished during their time in Bourbonnais.
"We came a long ways," he said. "I like our bunch. We're still learning each other. But they've been very open and hard working to learn what we've been teaching. Time will tell when we start playing real games. [But] I thought it was a productive camp.
"I think our mindset is a little tougher. Some of the essences of football have been worked on, as far as run defense and run offense. The knowledge of our system has grown every time we've been out there. I think our tempo was something that was new to them. Those are the things that I saw that we made strides in."
Sidelined with an undisclosed illness since the start of camp, second-year quarterback David Fales was removed from the non-football/illness list and participated in Sunday's practice.
The medical people thought he was ready," Fox said. "They thought he had healed good enough to go out and do physical activities. He's been doing some of that with the trainers on the sideline. To my knowledge right now he got through it pretty good."
Fox isn't worried about Fales catching up with the rest of his teammates. The 2014 sixth-round pick is listed third on the depth chart behind Jay Cutler and Jimmy Clausen.
"It's just hard to miss practice, whether you're in-season, in training camp or even the off-season," Fox said. "But he's a smart guy who has been around in the system and I think he'll pick it up pretty quick."
Receiver Alshon Jeffery did not practice Sunday due to a calf injury, but he no longer was wearing a walking boot or using crutches like he did the previous several days.
With Jeffery out at least a week and rookie Kevin White set to undergo leg surgery, young receivers such as Marquess Wilson, Joshua Bellamy and Cameron Meredith are getting more chances to prove themselves.
"Sometimes doors close and that opens doors for other people," Fox said. "I mentioned to the team we went to the Super Bowl and lost six starters, three Pro Bowlers, and still made it to the Super Bowl.
"They're all big blows. You hate to see people getting injured, but it's part of the game. You've got to deal with it. No one comes to rescue you. You better man up, or men up. Everybody's got to play a little bit better and the new guys have got to step up."