The Bears concluded their offseason program Thursday and also bolstered their roster by signing veteran tight end Tony Moeaki and defensive lineman Marquis Jackson.
Moeaki, who participated in this week's minicamp on a tryout basis, has appeared in 48 NFL games with 31 starts over five seasons with the Chiefs, Bills, Seahawks and Falcons, catching 91 passes for 1,201 yards and six touchdowns.
Moeaki's first NFL season remains his most productive. After being selected by the Chiefs in the third round of the 2010 draft out of Iowa, the 6-3, 252-pounder had 47 receptions for 556 yards and three TDs as a rookie.
Moeaki missed his entire second season with a torn ACL he suffered in a preseason game against the Packers. He caught 33 passes for 453 yards and one TD in 2012 but fractured his shoulder the following preseason and was waived by the Chiefs.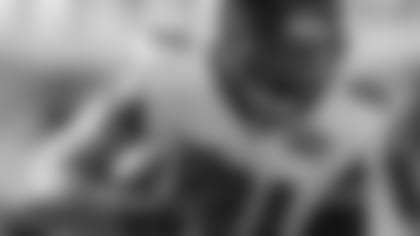 Veteran tight end Tony Moeaki has appeared in 48 NFL games with 31 starts over five seasons.


Last season Moeaki appeared in 10 games, all as a reserve, with the Falcons and caught three passes for 58 yards and one touchdown. The 29-year-old grew up in Wheaton and attended Wheaton-Warrenville High School.
Jackson is the twin brother of Malik Jackson, a defensive lineman who signed with the Jaguars this offseason after helping the Broncos win the Super Bowl last season.
Marquis Jackson entered the NFL with the Vikings in 2013 as an undrafted free agent from Portland State, but he was waived before the regular season. He appeared in two games with the Arena Football League's Portland Thunder in 2014.
The 6-4, 280-pounder was signed after participating in both the Bears' rookie minicamp and full-squad minicamp on a tryout basis.
In corresponding moves Thursday, the Bears waived undrafted rookies Kenton Adeyemi, a defensive lineman from Connecticut, and Don Cherry, a linebacker from Villanova.
The Bears, who have one open spot on their 90-man roster, concluded their offseason program Thursday a bit earlier than expected. Coach John Fox rewarded his players for their hard work by cancelling the final minicamp practice. After players stretched, Fox gathered the team at midfield and delivered the good news.
"They've earned it," Fox said. "I don't just do that because I feel like it. They worked real hard. We had great participation and they worked extremely hard."
Fox was impressed with the intensity and urgency he saw on the practice field throughout the offseason, especially compared to last summer.
"I went back and looked at OTAS from a year ago," he said. "It's much more competitive, much higher speed. This game is about playing it fast and you have to practice it fast."
Bears players will have the next five-plus weeks off before reporting to training camp at Olivet Nazarene University in Bourbonnais July 27.
"Anytime you cut guys loose, whether it's the offseason or this five-week break before we report to training camp, it's like a parent when you send your kid off in the evening—you always have concerns," Fox said. "Hopefully they'll make good decisions. Hopefully they are well trained not only on the field but off the field."