The Bears rebounded from their back-to-back losses to the Texans and 49ers in convincing fashion Sunday at Soldier Field, dominating the Vikings in an impressive 28-10 victory.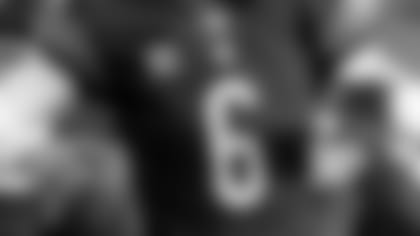 Jay Cutler passed for 188 yards and one touchdown in Sunday's win.
After mustering only one touchdown and 13 points in their previous two games, the Bears scored three TDs in the first half Sunday in racing to a commanding 25-3 halftime lead.
"I thought our guys came out ready to play," said coach Lovie Smith. "At home you've got to get something going right away, and we were able to do that."
Returning to action after missing last Monday night's game in San Francisco with a concussion he suffered Nov. 11 against the Texans, Jay Cutler was nearly flawless in the first half, completing 15 of 17 passes for 117 yards with one touchdown and a 115.0 passer rating.
"Jay's one of the best quarterbacks in the league," Smith said. "Everybody needs their stud quarterback playing; we're no different. We expected him to give us a boost. I thought he played outstanding ball."
In leading the Bears to their sixth straight win over the Vikings, Cutler completed 23 of 31 passes for 188 yards with one TD, one interception and an 86.5 passer rating. Brandon Marshall had 12 receptions for 92 yards, routinely making catches with defenders draped all over him.
With their seventh win in nine games, the Bears (8-3) vaulted into sole possession of first place in the NFC North, one game ahead of the Packers (7-4), who lost to the Giants Sunday night. The Vikings (6-5) are in third place, two games back.
The Bears overcame a slew of injuries, losing both starting guards Chris Spencer (knee) and Lance Louis (knee) as well as running back Matt Forte (ankle), cornerback Charles Tillman (ankle) and receiver Devin Hester (concussion).
"I don't know the extent of the injuries except for they weren't able to come back in the football game," Smith said.
Spencer and Louis were replaced by Edwin Williams, who was active for the first time this season; and Gabe Carimi, who lost his starting right tackle job following the 49ers game to Jonathan Scott and had never played guard before.
"The offensive line did a good job," said Cutler, who was sacked only once. "We had a few moving pieces in there, some guys filling in. Under the circumstances, they played well."
After failing to force any turnovers in San Francisco for the first time this season, the Bears defense generated three takeaways, two of which the offense converted into touchdowns.
Vikings star Adrian Peterson, the NFL's leading rusher, gained 108 yards on 18 carries. But 83 of those yards came in the second half after the Bears had built a big lead.
"We missed a lot of tackles the first half and he got a few yards late in the game when it didn't really matter," said middle linebacker Brian Urlacher. "We held him in check for the most part in the first half."
On the Bears' first play from scrimmage, Forte lost his first fumble of the season when he ran into fullback Evan Rodriguez. Linebacker Chad Greenway recovered at the Chicago 28. The Vikings failed to pick up a first down, but took a 3-0 lead on Blair Walsh's 40-yard field goal.
Nick Roach then stripped the ball from Peterson and Tillman recovered at the Minnesota 34. After Cutler completed passes of 11 yards to Earl Bennett on third-and-six and 15 yards to Kellen Davis, Michael Bush's one-yard touchdown run gave the Bears a 7-3 lead.
Robbie Gould's 47-yard field goal widened the margin to 10-3 with :32 left in the first quarter. The Bears then blew the game open by scoring 15 points in a 2:13 span late in the second quarter.
Bush's second one-yard touchdown run of the game capped a 14-play, 80-yard drive with 4:01 left in the half. Holder Adam Podlesh pulled off a trick play on the extra point, taking the snap and dashing into the end zone for a two-point conversion to make it 18-3.
Chris Conte followed by intercepting Christian Ponder's overthrown pass and returning it 35 yards to the Minnesota 13. On the next play, tight end Matt Spaeth made a diving touchdown catch in the left corner of the end zone, increasing the Bears' lead to 25-3 with 1:48 left in the half.
The Vikings closed to within 25-10 early in the third quarter on Ponder's two-yard TD pass to tight end Kyle Rudolph before Gould provided the game's final points with a 46-yard field goal late in the period.