The Bears accomplished one of their primary goals Sunday in Jacksonville as their running game produced 214 yards and one touchdown on 33 carries in a 41-3 rout of the Jaguars.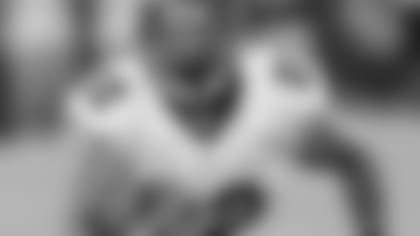 Matt Forte rushed for 107 yards in Sunday's 41-3 win over the Jacksonville Jaguars.
The 214 yards were the third most in Lovie Smith's nine seasons as coach and more than double the 101 yards the Bears had averaged on the ground in their first four games.

"It's a must for us," Smith said Monday. "I'm talking about the commitment of us running the ball. We're not going to always rush for 200 yards like we did [Sunday], but just the commitment that we're running it and making defenses play for the run, that's what we have to do."

Matt Forte rushed for 107 yards on 22 carries, his first 100-yard game since last Nov. 7 against the Eagles. The Bears are now 12-1 when Forte tops 100 yards. Michael Bush added 26 yards on four attempts and Armando Allen had a 46-yard touchdown run with 1:49 left in the game.

"It's hard to make it a physical game if you're not running the ball," Smith said, "and we have running backs that can do that."

In the trenches: Aided by the line's run blocking and pass protection, the Bears compiled 501 total yards, their most since Sept. 24, 1989 when they had 542 yards in a 47-27 win at Detroit.

After permitting seven sacks in a Week 2 loss in Green Bay, the Bears have allowed only two, two and one, respectively, in consecutive wins over the Rams, Cowboys and Jaguars.

"Our sack totals are down, we're running the ball better," Smith said. "It starts up front. When we weren't doing some of those things, [the offensive line was] really criticized a lot. So we have to praise them some now for the job that they've done."

Flag day: Right tackle Gabe Carimi drew three penalties in Sunday's win. The second-year pro was flagged for holding in the second quarter and then got whistled for back-to-back false starts in the third period, turning third-and-goal from the Jacksonville 3 to third-and-goal from the 13.

After an incomplete pass, the Bears were forced to settle for Robbie Gould's 31-yard field goal.

"All of us would like some plays back from [Sunday], and sometimes an offensive tackle stands out a little bit more," Smith said. "Gabe is a good football player. Yeah, there were a couple plays he would like to have back, but again, a lot of us would.

"He's our guy. His play will just only get better and better too. You've got to keep in mind Gabe hasn't played a lot of football for us. It's early in the year and he'll be fine."

Aches and pains: Smith did not provide any new information Monday about the hand injury that knocked rookie receiver Alshon Jeffery out of Sunday's game, saying only: "We're continuing to evaluate it to see where he is."

The Bears coach did have positive news about receiver Earl Bennett and fullback Evan Rodriguez, saying that both "should be good to go next time we play." Bennett (hand) and Rodriguez (knee) have both missed the last two games with injuries.

The Bears' next game is Monday night, Oct. 22 against the Detroit Lions at Soldier Field.

"Our plan for this week is we'll practice Tuesday and Wednesday," Smith said, "two days in and then want the players to get away, enjoy their bye week, get away from football, whatever they want to do and then get ready for this long haul hopefully we're going to have the rest of the year."

Sad story: Smith opened his press conference Monday by offering condolences to the family of Bears fan Chris Pettry, a 42-year-old Lake Villa resident who was stabbed to death in a Jacksonville bar Saturday night.

"We had a lot of people that came down to support us," Smith said. "Chris Pettry was one of them, one of our loyal supporters that was killed as he came to Jacksonville to support his favorite team, so our prayers definitely go out to his family."