The Bears accomplished several goals in the draft, but nothing was more important than further bolstering an offensive line that had already been upgraded in free agency.
In selecting Oregon guard Kyle Long in the first round (20th overall) and Louisiana Tech tackle Jordan Mills in the fifth (163rd), the Bears spent two of their first four picks on offensive linemen for the first time since 2002 and only the second time since 1984.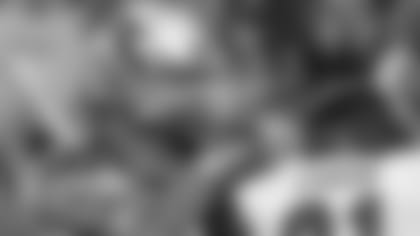 ](/multimedia/photo-gallery/Kyle-Long/47dde115-bbb1-4ff2-8021-c79b2a69f9a9)
Click to view a photo gallery of Kyle Long's college career.
"We're terribly excited about what we've done to our offensive line room," said coach Marc Trestman. "We've added talent. We've added competition. We've created a great group in there.
"I know [assistants] Aaron [Kromer] and Pat Meyer are excited to coach these guys and bring them together both as a unit and develop them as players. It's really exciting from that standpoint."
After adding two veteran starters in left tackle Jermon Bushrod and guard Matt Slauson in free agency, the Bears selected Long with their first draft pick. Athletic and versatile, the 6-6, 313-pounder will begin his NFL career at guard but is also capable of playing both tackle positions.
Asked about the likelihood of Long earning a starting job as a rookie, Trestman said: "We would expect Kyle to come in and compete. He doesn't expect anything to be handed to him. We as coaches expect him to play, but he's got to earn it."
General manager Phil Emery ranked Long as the most athletic guard in the last 12 drafts and felt that the Oregon product was the best offensive lineman at the Senior Bowl.
"He's a highly intelligent guy," Trestman said. "We talked about his athleticism and I've had a chance to watch the tape on him the last few weeks with Phil. We watched him in the Senior Bowl. We saw him play against some of the best talent in the country and we're excited about both his ability to grow as a player and certainly his ability to learn the offense."
Mills was a four-year contributor at Louisiana Tech, where he started all 13 games in 2011 and all 12 in 2012 at right tackle, earning All-WAC first-team honors as a senior.
"We'll probably start him out at right tackle and let him learn a little bit and then we'll move him around," Emery said. "A big part of the reason we drafted him was his versatility."
Not too long ago the Bears' offensive line was perceived as one of the thinnest areas on the roster. But now there seems to be a logjam with Bushrod, Mills, J'Marcus Webb and Jonathan Scott at tackle, and Slauson, Long, Gabe Carimi, James Brown and Edwin Williams at guard.
"There's going to be competition," Trestman said. "I don't think we bring in anyone who doesn't expect to have to compete on a daily basis, not only for a position on our offensive line but a place on our football team. Nobody's going to be entitled to anything. Everybody's got to earn the right to play, and that starts from Day 1."
"Isn't competition wonderful?" Emery said. "Competition makes you better, and that's what we're excited about. We feel very good about the people that we've added and we feel very good about the kind of responses we'll get from the veteran players and, man, are we excited about the competition that that's going to create."
The Bears have plenty of time to determine their five starting offensive linemen, a process that will play out throughout rookie and full-squad minicamps, OTAs, training camp and the preseason.
"We're going to just keep working every day to try to put it together," Trestman said. "It's a fluid process where we've got a bunch of talented guys who are flexible to play different positions.
"It's going to create competition in all areas of that offensive line, and it's an exciting process. Whether it's four weeks, eight weeks, up until the season starts, whatever it takes, it's going to be fluid until we figure it all out. We think we've got the answers. We've just got to go ahead and work with them every day to see where each player will fit."