All that's standing between the Bears and a crucial victory that will even their record at 4-4 Sunday at Gillette Stadium in New England is a man named Brady.
Unfortunately, that man happens to be a three-time Super Bowl champion, two-time Super Bowl MVP and nine-time Pro Bowler who remains at the top of his game at the age of 37.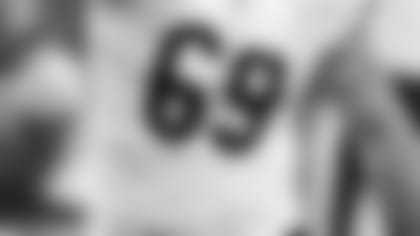 Jared Allen has two sacks in three  career games against the Patriots.
"He's a Hall of Fame quarterback and he does everything right all the time," defensive coordinator Mel Tucker said of Patriots star Tom Brady.
"He's very precise in everything he does. He has command of the huddle. They have a nice tempo to everything they do. There's not really a look that you can give him that he hasn't seen before a million times. They just do an overall great job and he's their No. 1 competitor."
Brady is 3-0 all-time against the Bears, having passed for 964 yards with six touchdowns, three interceptions and a 94.7 passer rating.
This season he has thrown for 1,705 yards with 13 TDs, two interceptions and a 96.3 rating that ranks 10th in the NFL. In leading the Patriots to wins over the Bengals, Bills and Jets the past three weeks, Brady has passed for 914 yards with nine TDs and no interceptions.
"They're playing at a very high level," Tucker said. "He looks very comfortable; he always looks very comfortable in what they're doing. He has total command and they do a heck of a job up front. They do a very good job with their scheme. They have very good skill position players at every position. He's in total command and he never looks flustered."
Brady's favorite receiver is Julian Edelman, a 5-10, 198-pounder who ranks seventh in the NFL with 44 receptions for 453 yards and one touchdown.
"For a player his size, he is very good both inside and outside," said coach Marc Trestman. "He plays at a very high level as an outside receiver for a player who doesn't have great size. He's got a great sense for coverage and is a very good technician."
The Patriots offense also features tight end Rob Gronkowski (31 receptions for 409 yards and 4 TD), receiver Brandon LaFell (19-337-3) and running back Shane Vereen (53 carries for 259 yards and 1 TD), the older brother of Bears safety Brock Vereen.
"They are so well balanced that as good as Tom is, watching film they don't ask him to do everything," said defensive end Jared Allen. "They have a solid run game. Their intermediate pass game is on point and obviously he is very capable of putting the team on his shoulders and bringing them back and you have seen him do it plenty of times and having those games.
"I think he is at his best when he's in second-and-mediums, [making a] check down to intermediate throws. And they've got a good running game, [so] at that point how do you defend him? He is going to throw the ball on time, accurately to the right person."
To defeat the Patriots Sunday, the Bears know that they must stop the run and pressure Brady.
"With Tom, we've got to figure a way to get him off his spot," Allen said. "We can't allow him to sit back there, pat the ball and be rhythmic.
"When you can't stop the run and you allow them to play-action and allow them second-and-short, you allow them to give you run looks and throw the ball down the field. That creates problems up front where you now have to play the run and convert to pass and he has time to be in rhythm.<
"We have to find a way to get them into some third-down situations where we can dictate pressure to him and get him off the spot and force him to pat the ball and try to create a little havoc."
It's going to take a group effort by the Bears to slow down Brady and the Patriots.
"We need interior push and we need push off the edge," Tucker said. "We have to have it all. We have to have excellent coverage behind it, whether it's man or zone or zone pressure. Whatever we do on first down, second down and third down, we have to be clicking on all cylinders in order to contain this offense."