After battling the Packers' Aaron Rodgers and the Cardinals' Carson Palmer the first two weeks of the season, the Bears defense will face another difficult challenge Sunday in Seattle.
Seahawks quarterback Russell Wilson has posted a 22-2 record at home since being selected by Seattle in the third round of the 2012 draft. In those games, he's passed for 4,686 yards with 37 touchdowns, 13 interceptions and a 100.9 passer rating.
"He's a magician," said Bears defensive coordinator Vic Fangio, who faced Wilson twice a year the past three seasons when Fangio served in the same role with the 49ers.
"He's extremely fast, extremely quick, extremely instinctive. And very confident with the ball, sees the field, has a feel for what's around him. He doesn't get hit very hard even when he carries the ball as much as he does."
In addition to passing for 3,475 yards last season, Wilson led all NFL quarterbacks in rushing with 849 yards. Sixteen of the league's 32 teams didn't have a running back gain that many yards on the ground.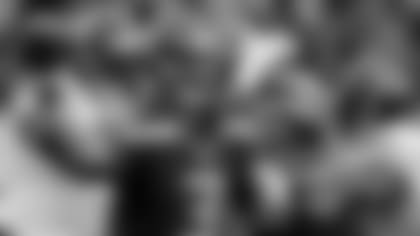 Russell Wilson has completed 71.8 percent of his passes for 457 yards with three TDs this season.
Last season in a win over the Rams, Wilson became the first player in NFL history to pass for more than 300 yards and rush for more than 100 yards in the same game.
"He's a good passer," Fangio said. "This guy [tied for 16th] in the NFL in rushing yards and that's with all the running backs mixed in there. He's a dual threat. They do a good job with him. Their scheme has been tailored to him and it's become a good offense."
Wilson had his coming out party as a rookie in a 2012 win over the Bears at Soldier Field. He engineered touchdown drives of 97 yards late in the fourth quarter and 80 yards in overtime to lift the Seahawks to a stunning 23-17 victory. Wilson passed for 293 yards and rushed for 71 yards in the game.
"He's a terrific athlete," said Bears coach John Fox. "I think it speeds up even a little bit more on turf than on natural grass. He is a tremendous competitor. He was in college and he has made a pretty immediate impact for their football team going back to his rookie year."
In two games this season—losses to the Rams and Packers—Wilson has completed 71.8 percent of his passes for 457 yards with three TDs, two interceptions and a 91.1 passer rating. He's also been sacked eight times in the two contests.
The Seahawks offense also features running back Marshawn Lynch, a battering ram whose 56 total touchdowns since 2011 lead the NFL. Lynch is the league's only player to rush for more than 1,000 yards and 10 TDs each of the past four seasons.
"We've got to get a lot of people there," Fangio said. "He's a hard guy to tackle one-on-one. He's physical. He's got some dance ability to him where he can jump-cut and then slap people by and he can get back outside. So he's a unique combination of power and elusiveness, and once he gets rolling downhill the power really shines."
The Seahawks added athleticism and speed to their offense during the offseason when they acquired tight end Jimmy Graham in a trade with the Saints and selected receiver Tyler Lockett in the third round of the draft.
While Graham is reportedly unhappy with his limited role—he has seven catches for 62 yards and one TD in the first two games—he remains a threat, as does Lockett, who returned a punt 57 yards for a touchdown in Seattle's season-opening loss in St. Louis.