The Bears have faced some of the NFL's best running backs in their last three games, and that trend will continue Sunday when they host Marshawn Lynch and the Seahawks at Soldier Field.
Lynch is third in the NFL in rushing with 1,051 yards. The Bears played against the two players ranked ahead of him in the Vikings' Adrian Peterson last Sunday and the Texans' Arian Foster Nov. 11. In between those games, they battled the 49ers' Frank Gore, who is ninth in rushing.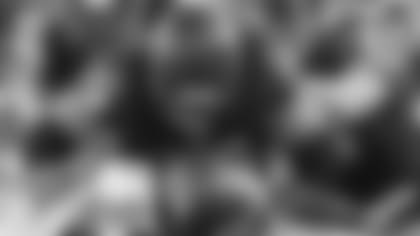 Matt Toeaina tackles Seahawks running back Marshawn Lynch last December at Soldier Field.
"Every week it's someone new for us, with all these good running backs the last few weeks," said middle linebacker Brian Urlacher. "[Lynch] is a hard running back to tackle. He likes to get downhill, he makes guys miss, he's got great speed. It's another big challenge for us."

The Bears have contained Lynch in two regular season meetings the last two years at Soldier Field, holding him to 44 yards on 17 carries in 2010 and 42 yards on 20 attempts in 2011. But the Seahawks won both of those games by scores of 23-20 and 38-14.

"It's a big challenge," said coach Lovie Smith. "Lynch is a heck of a player. He runs hard every snap. You have to be ready. We'll need to be sound in our gaps and play the same type of physical game that we played this last week [in a 28-10 win over the Vikings]."

Lynch had rushed for more than 100 yards in four straight games before mustering just 46 yards on 19 carries last Sunday in a 24-21 loss to the Dolphins in Miami.

"The best tape to prepare for this game is understanding what their offensive line is trying to do and how they're trying to attack us," said linebacker Lance Briggs. "We have to get ourselves in position to take Marshawn Lynch down. He's running really well this year. Their offense, their scheme is producing, so for us we have to be physical, extremely physical."

As is the case in every game, the Bears will try to first stop the run. They hope to put the Seahawks in predictable passing situations and pressure rookie quarterback Russell Wilson.

The third-round pick from Wisconsin is having an excellent debut season, passing for 2,051 yards with 17 touchdowns, eight interceptions and a 93.9 passer rating while also rushing for 227 yards.

"He's got a laser as an arm," Briggs said. "[His lack of height] hurt him in the draft. But he's a smart guy. He's producing and they're getting some wins. But at the end of the day he's still a rookie. You get pressure on him, keep him in the pocket and force him to beat us."

Quarterback Matt Flynn left the Packers to sign a lucrative free-agent contract with the Seahawks during the offseason. But Wilson beat him out for the starting job.

"He's not playing like a rookie," Smith said. "To come in and be the starting quarterback when they had another good option in Flynn, that says a lot about what type of football player you are.

"I know they have a lot of confidence in him. They're having a good season and in order to have a good season you have to have good play from your quarterback position. He's mobile in the pocket, makes great decisions and has just been productive for them."

Wilson and the Seahawks have had much more success this season in Seattle, where he's thrown for 11 touchdowns and no interceptions while compiling a 5-0 record, than on the road, where he's passed for six TDs and eight interceptions while going 1-5.

The Bears lead the NFL with 33 takeaways, have allowed the second fewest points per game (15.9) and rank No. 1 defensively in the Aikman Ratings, which include seven statistical categories.

"It's important for us to stop the run—that's what they do the best—and get pressure on the quarterback, keep him in the pocket and force those balls to come out early," Briggs said. "We have a great defensive backfield and if those balls are anywhere near where our defensive backs are they're going to make them pay."