The Bears defense is determined to rebound from last weekend's subpar performance in Detroit, but it won't be easy against one of the NFL's most potent offenses Sunday at Soldier Field.
Averaging 27 points and 419.5 yards per game, the undefeated New Orleans Saints (4-0) are led by quarterback Drew Brees and tight end Jimmy Graham—the last two NFC offensive players of the week—as well as running back Darren Sproles and receiver Marques Colston.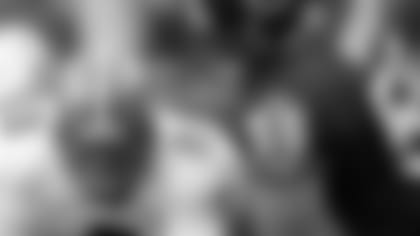 Lance Briggs tackles Drew Brees during the Bears' win in the 2006 NFC title game at Soldier Field.
Brees ranks second in the NFL with 1,434 passing yards and fifth with a 103.8 passer rating. The seven-time Pro Bowler and Super Bowl XLIV MVP completed 30 of 39 passes for 413 yards and four touchdowns Monday night in a 38-17 rout of the Dolphins.
"He's a very poised quarterback," said defensive coordinator Mel Tucker. "He's got tremendous command of the offense. He's one of the most fierce competitors in the game today and he's seen just about every look that you can give him defensively. He just does a great job.
"We just have to eliminate the explosive plays, stop the run, and then when we get a chance on third down get off the field. If we have an opportunity to take the ball away, we need to that. He's a hard guy to stop. He's one of the best quarterbacks ever to play this game. So it's not an easy task and there's no easy fix on that."
While it's not an easy task, it's not impossible either. Brees is 0-4 against the Bears at Soldier Field, losing with the Chargers in 2003 and the Saints in 2006 (in the NFC Championship Game), 2007 and 2008. In those four games, he passed for 955 yards with seven TDs and six interceptions.
Brees no doubt will look to Graham, a freakishly athletic 6-7, 265-pound tight end who is tied for the NFL lead with six TD receptions and ranks second among all pass catches with 458 yards.
"He's a huge challenge," Tucker said. "He's a mismatch nightmare. He runs like a fast wide receiver, he's got excellent catch radius, he's a fierce competitor, his quarterback looks for him, and he feels like every ball that's thrown to him he should catch it."
Graham played basketball at the University of Miami from 2005-09 and then played football for the Hurricanes in 2009. Selected by the Saints in the third round of the 2010 draft, he blossomed in 2011, catching 99 passes for 1,310 yards and 11 touchdowns. This season Graham has topped 100 yards in each of his last three games and has TD catches of 56 and 43 yards.
"He's hard to stop," said coach Marc Trestman. "He's got the size. He's got speed. You don't have a linebacker tall enough to cover him. You don't have a defensive back tall enough to cover him. So he presents a lot of challenges. He's a force, no doubt about it."
Sproles is also a force. The diminutive running back is similar in style to the Lions' Reggie Bush, who gashed the Bears last Sunday in Detroit, rushing for 139 yards and one TD on 18 carries. After that outing, the defense is focusing in practice on tackling and gap responsibilities.
"Just technique and fundamentals, and getting more guys to the ball," Tucker said. "We missed some tackles, and so we learn from it and move on. We want to be a good tackling defense, so that's an area of emphasis for us this week."
It didn't take long for that message to be conveyed Wednesday at practice.
"The first drill we did was tackling drills," said cornerback Tim Jennings. "We had way too many [missed] tackles in the Detroit game. It hurt us a lot. We're going to face the same kind of back in Darren Sproles, so we definitely have to come in and come to balance and be able to break down and make the tackle on a shifty back."