MINNEAPOLIS — Determined to make amends Sunday in Minnesota for last weekend's late meltdown against the Seahawks, the Bears instead picked up right where they had left off.
After allowing touchdown drives of 97 and 80 yards on Seattle's final two possessions in a 23-17 overtime loss, the Bears permitted TDs on the Vikings' first two drives Sunday at the Metrodome.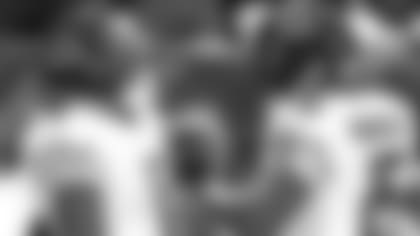 Alshon Jeffery and Brandon Marshall celebrate Jeffery's 23-yard touchdown catch from QB Jay Cutler in the first half.
Minus injured starters Brian Urlacher and Tim Jennings, the Bears had no early answer for Adrian Peterson. In the first quarter alone, the Vikings star running back rushed for a team-record 104 yards including two one-yard touchdowns that gave Minnesota a 14-0 lead en route to a 21-14 win.
Peterson's 51-yard run around right end on the game's first play from scrimmage set up his first TD. His second score came a little over four minutes later after cornerback Josh Robinson had intercepted a Jay Cutler pass and returned it 44 yards to the Chicago 5. The ball was intended for rookie Alshon Jeffery, who fell to the ground after his feet got tangled with a defender.
"We talk an awful lot about starting fast; you have to do that on the road," said coach Lovie Smith. "That opening drive really put us on our heels and we never really recovered."
With their fourth loss in five games after a 7-1 start, the Bears (8-5) slipped into second place in the NFC North, one game behind the Packers (9-4), who beat the Lions 27-20 Sunday night.
Jeffery cut the deficit in half to 14-7 by hauling in a perfectly-thrown 23-yard touchdown pass from Cutler in the right corner of the end zone with 1:52 remaining in the first half.
The defense improved dramatically after the disastrous first quarter, holding the Vikings to no points and 134 total yards over the final three periods. But the offense failed to take advantage.
The back-breaking mistake came late in the third quarter when Vikings rookie safety Harrison Smith intercepted Cutler's overthrown pass intended for Brandon Marshall and returned it 56 yards for a touchdown, widening the margin to 21-7.
After Cutler exited with a neck injury late, Jason Campbell engineered a 10-play, 76-yard drive capped by a 16-yard TD pass to Marshall, making it 21-14 with 1:48 left in the fourth quarter.
But Kyle Rudolph easily recovered Robbie Gould's onside kick and the Vikings (7-6) killed the clock with three kneel-downs, climbing to within one game of the second-place Bears.
The Bears outgained the Vikings 438-248, but failed to run a play in the red zone until their final drive. Cutler completed 22 of 44 passes for 260 yards with one TD, two interceptions and a 57.0 passer rating. Marshall had another monster game, catching 10 passes for 160 yards and 1 TD.
But the Bears were plagued by dropped passes throughout the game and the inability to contain Peterson early. They recorded just one sack and their only takeaway came on a Major Wright interception on a long Christian Ponder pass at the Chicago 20 with :32 left in the first half.
"When you're in a hole, you have to make every play count, and we didn't," Smith said.
The Bears will return to Chicago and regroup. They'll host the Packers next Sunday at Soldier Field and then conclude the regular season with road games in Arizona Dec. 23 and Detroit Dec. 30.
"We knew it would be a race to the finish, and that's what we're going to have," Smith said. "That window of opportunity for us is a lot smaller, but we still control what happens with us.
"It's just now about this three-game season and the next game. That's what dictates what happens with us. We're still in position to accomplish all of our goals that we set out for early on."