Cameron Meredith evolved from an unheralded rookie in 2015 to the Bears' best receiver last season. But that doesn't mean the converted college quarterback has reached his ceiling.
"Cam just has a great attitude right now," said general manager Ryan Pace. "He's getting better. I just love his skill set, love his professionalism and I think we're going to see him ascend."
After catching 11 passes for 120 yards in 11 games as an undrafted rookie from Illinois State in 2015, Meredith led the Bears with 66 receptions for 888 yards and four touchdowns last year.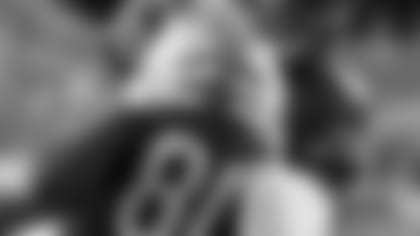 Cameron Meredith led the Bears with 66 receptions for 888 yards and four touchdowns last year.


A Chicago area native who grew up in Westchester and attended St. Joseph's High School, Meredith first attracted the Bears' attention during a pre-draft tryout for local prospects at Halas Hall.
'There's a maturity level and I think he's grown," said coach John Fox. "He had opportunities even in his rookie season and he got more opportunities last year and he took advantage of them. When you really look at it, he was probably our best receiver last year."
Meredith's rapid rise reminds Pace of a receiver who followed a similar journey from the basement to the top floor when the Bears general manager worked in the Saints personnel department. Marques Colston was selected by New Orleans in the seventh round of the 2006 draft out of Hofstra and became the franchise's all-time leader in receptions, receiving yards, yards from scrimmage, receiving touchdowns and total touchdowns.
"I hate to make comparisons, but I felt like I saw this happen with Colston a little bit," Pace said. "I'm excited about Cam. I just see him getting better and better. Cam's a guy with a lot of upside."
Meredith looks like a natural receiver, even though the 6-3, 207-pounder didn't play the position until his junior year at Illinois State after beginning his collegiate career as a quarterback.
"As a route runner, he has gotten a lot better," Pace said. "For a guy that's his size, he's great in and out of his breaks. He's a really good sudden route runner. He's got great catching radius and he's got really great body control, so when the ball is not on target, he can adjust with his length and make difficult catches in close coverage.
"What has always stood out to me with Cam is for a big guy like that his ability to run sudden routes and set guys up and separate is impressive."