With an eye on their Sept. 8 regular-season opener against the Bengals, the Bears rested all 22 of their starters plus several key reserves in Thursday night's preseason finale at Soldier Field.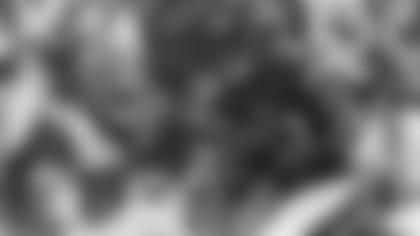 Demontre Hurst returned an interception for 17 yards during the first quarter.
Although coach Marc Trestman praised those who played, his team's 18-16 loss to the Browns will long be forgotten a week from Sunday when the games begin to count in the standings.
"We will put the preseason behind us now and everybody's got to get their attention on next week, and that will start soon," Trestman said.
The Bears must trim 22 players to reach the NFL's 53-man roster limit by 5 p.m. Saturday, though the club is expected to announce the moves Friday.
"I don't think anyone played themselves out of the roster tonight," Trestman said. "There's going to be two or three very difficult decisions tomorrow based on the play of some of the guys today.
"I don't want to be specific right now. We're just going to wait it out, and early morning we will make some final decisions after a good night's sleep. I think the guys who are in a position to win a job on this football team have made it very difficult going into tomorrow."
Trestman will consult with general manager Phil Emery about the final roster.
"Phil and I will sit down early in the morning, based on the information we gathered from the tape and from the other coaches," Trestman said. "It will be a collective process to make those decisions that work out to be the final 53."
Quarterback Jordan Palmer, receiver Joe Anderson and cornerback Demontre Hurst seemingly were among the players who enhanced their chances of earning roster spots.
Less than two weeks after joining the Bears, Palmer looked impressive in the first half, completing 11 of 17 passes for 111 yards with one touchdown and a 102.8 passer rating.
Palmer gave the Bears a 10-0 lead with a 5-yard touchdown strike to Anderson in the left corner of the end zone early in the second quarter. Palmer completed 7 of 8 passes for 62 yards on the 16-play, 69-yard drive, helping the Bears convert all five third-down opportunities.
"It says a lot about his preparation," Trestman said. "He came in here, he dug in. He has learned a lot of the offense and spent a lot of time, on his own, trying to assimilate all of it. I'm happy for him that he came out and played very efficiently for us."
Anderson caught four passes for 64 yards in the first half, while Hurst also made a strong case for a roster spot with an interception and a well-timed blitz that led to an intentional grounding penalty.
"I was really pleased with the effort of our football team in all three phases tonight," Trestman said. "I'm excited about what I saw out there tonight with the group that played. I think that all of us feel a part of what we did tonight."
Robbie Gould kicked field goals of 52, 21 and 44 yards without a miss before pushing a 57-yard attempt wide right that could have given the Bears the lead with 1:09 left in the fourth quarter.
Both teams mustered only one offensive touchdown. The Bears led 13-3 midway through the third quarter when Trent Edwards' pass deflected off tight end Fendi Onobun's hands and was intercepted by linebacker James-Michael Johnson, who returned it 23 yards for a touchdown.
The Bears stopped the Browns' subsequent two-point conversion attempt before widening the margin to 16-9 on Gould's 44-yard field goal early in the fourth quarter. Brian Hoyer's 14-yard TD pass to tight end Dan Gronkowski made it 16-15 with 6:47 to play, but the Bears retained their lead when cornerback C.J. Wilson broke up Hoyer's two-point conversion pass.
After running back Harvey Unga lost a fumble at the Chicago 44, the Browns converted the turnover into Spencer Lanning's game-winning 40-yard field goal with 3:15 remaining. A punter by trade, Lanning took over place-kicking duties for Cleveland after Shayne Graham hurt his back.