In 2002, the Oakland Raiders lost four consecutive games in the middle of the season. Two of the losses were in overtime; the other two were both by 10 points or more.
Losing streaks like that are tough to overcome in the NFL, but the Raiders did not let the mid-year slump define their season. The team recovered from the setbacks, winning seven of its final eight games to win the AFC West. Oakland wound up reaching the Super Bowl that season.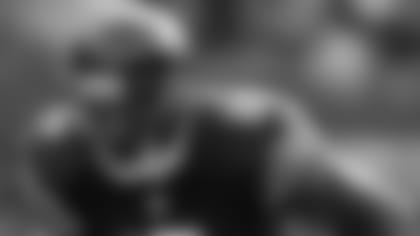 Heading into the bye week, Brandon Marshall has tallied 384 yards and five touchdowns on 34 receptions in 2014.
Marc Trestman was the Raiders' offensive coordinator this year. The Bears head coach said Monday evening that the turnaround of the Raiders a dozen years ago hopefully will prove to be a lesson for his team, which enters its bye week 3-5 and losers of four of its last five games after falling on Sunday to the New England Patriots.
"This is a serious time for all of us," Trestman said on WBBM-AM 780's 'Chicago Bears Coaches Show.' "It starts through re-assessing what we are doing, making the necessary adjustments to how we are working, whether it was through practice or whether it was in game-planning. This is certainly a team that has a foundation of hard work, a very good work ethic, extreme high character and they love to work, they love football.
"The next step is to play consistent and clean football."
Trestman, who appeared on the radio show alongside the team's coordinators - Aaron Kromer (offense), Mel Tucker (defense) and Joe DeCamillis (special teams) - acknowledged that the first half of the season has not lived up to anyone's expectations. The Bears have struggled protecting the ball, with 15 giveaways in eight games. At the same time, the team has also struggled to force turnovers of their own, with just 12 takeaways on the year and none in its last two games.
Wide receiver Brandon Marshall, who earlier Monday appeared on WMVP-AM 1000's 'Waddle and Silvy' show, said he believes the Bears have the talent to climb out of their current slump. Marshall has been battling an ankle injury all season, and while the setback hasn't kept him out of the lineup, his production has dropped. He is gaining just 11.3 yards per catch, one of the lowest averages of his career, and hasn't scored a touchdown since Week 4.
"We are all kind of shell shocked right now," Marshall said. "Sometimes you can die from over eating, I don't know if we have too much talent. I don't know. But what I do know is we have a week off. And not just the coaches, the players have to evaluate film, evaluate their position."
Improvement over the bye week was a universal theme on the radio shows. Marshall said it is on the players and coaches to use the time off to improve as a whole and come back as a better all-around team.
Tucker added that the team will not forget what the Bears have done well the first eight games, but at the same time, look to repair what is broken.
"You always try to find a silver lining, if at all possible. There's always something you can build upon, whether it's from a coaching staff standpoint or a player standpoint," the defensive coordinator said. "So I think that's what we'll try to do. Have to have a positive attitude moving forward. Look for solutions. Not just dwell on the problems, but look for ways to get better."
At the end of the day, the Bears want to win. Can they duplicate what the Raiders did in 2002 and turn their season around after a rough stretch of defeats? Only time will tell. What is clear is that the team's players and coaches are going to do everything they can to correct the issues that have shown in the first half of the year.
"This city deserves more. That's the toughest part for me," Marshall said. "Players have to do better, myself included. Coaches got to continue to get better. That's all we can do at this point. We are in a tough spot right now. Moving forward, when we get back from this bye, you are going to see who really loves it. I really believe that."