The Bears (5-6) enter Week 13 one game behind the Falcons (6-5) and Seahawks (6-5) in the race for the second and final wildcard berth in the NFC.
But coach John Fox and his players are focusing solely on Sunday's home game against the 49ers (3-8) and not any possible playoff scenarios.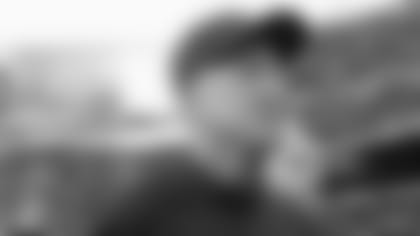 "I've always been a big believer in keeping the focus small," Fox said Friday. "When you start thinking about the fifth game and the fourth game and the playoffs and what you're doing for Christmas dinner, you're not focused on the job at hand and that is the 49ers."
Regardless of how the Bears fare down the stretch, their future looks bright thanks to Fox and the rest of the new regime, who've completely changed the culture at Halas Hall.
"It's just a different mindset and it comes from the top all the way down to the bottom," said running back Kyle Long. "Coach Fox has instilled a lot of leadership in the team and instilled a lot of accountability in guys around the team where before I don't think we had a lot of personal accountability going around the entire locker room.
"If you make a bad play or make a mistake, you own up to it and then go out there and try not to make that mistake again. That leads to more success, if you're not making the same mistake over and over again. That means you're going to get better, and we've been able to do that across the board. I think his tough mentality and the mindset of coach Fox translates and trickles down to the entire team."
Injury update: Receiver Marquess Wilson has been ruled out of Sunday's game with a foot injury he sustained Wednesday in practice. Receiver Eddie Royal (knee), tight end Zach Miller (rib), safety Antrel Rolle (knee) and defensive lineman Bruce Gaston (illness) are questionable.
Quarterback Jay Cutler (illness), outside linebacker Pernell McPhee (knee), tight end Martellus Bennett (rib), running back Ka'Deem Carey (head) and tackle Kyle Long (neck) are probable.
With Wilson out Sunday, the Bears' top four receivers heading into training camp will have all missed time this season due to injuries. Royal and Alshon Jeffery have sat out five games apiece, while rookie Kevin White has yet to play this year following leg surgery.
In their place, inexperienced receivers Josh Bellamy (12 catches for 142 yards and 1 TD), Marc Mariani (7-87) and Cameron Meredith (9-101) have helped pick up the slack.
"It's a mindset," Fox said. "I think our whole team is kind of used to it and understands it. The reason they're on the 53-man roster is we think they're good enough. So wherever you are on the depth chart, when you're called upon, we expect you to perform."
Contributing early: Eight rookies have combined to start 36 games for the Bears this season: Safety Adrian Amos (11), defensive tackle Eddie Goldman (8), tight end Khari Lee (5), center Hroniss Grasu (4), linebacker Jonathan Anderson (2), cornerback Bryce Callahan (2), running back Jeremy Langford (2) and safety Jonathan Anderson (2).
"Kudos to our personnel people, everybody involved, coaches, personnel people," Fox said. "The kind of guys they've brought in here, they're guys who are willing to work, do it the right way and I think they're reaping the benefits."
The eight rookie starters are the most the Bears have had since 1999 when nine rookies combined to make 29 starts: Jerry Azumah (2), D'Wayne Bates (1), Marty Booker (4), Russell Davis (8), Warrick Holdman (5), Cade McNown (6), Khari Samuel (1), Rex Tucker (1) and Jerry Wisne (1).
Waiting game: It remains unclear whether White will start or even play in a game as a rookie. He returned to practice this week for the first time since June but remains on the physically unable to perform list after undergoing leg surgery.
The first-round pick sustained a stress fracture in his shin during OTA workouts in June. He suffered a setback while doing some light running in training camp in August and underwent surgery.
"Any time you take a guy with the seventh pick overall in the draft you usually have high expectations," Fox said. "Unfortunately, he's one of those rookies that hasn't gotten the opportunity yet. He had a setback; sometimes setbacks are setups for better things to come. We'll see where that goes day-to-day."