Determined to halt two disturbing trends Sunday at Soldier Field, the Bears instead continued their free fall in the standings and failed to end their losing streak to the rival Packers.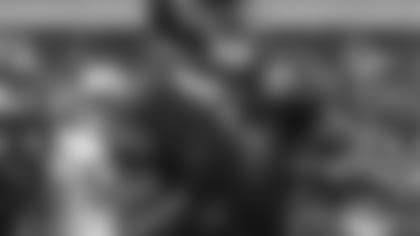 Brandon Marshall scored the Bears' only touchdown of the game on a 15-yard reception from Jay Cutler.
The mistake-prone Bears mustered only one touchdown, were outgained 391-190 and committed 10 penalties for a season-high 91 yards in a discouraging 21-13 loss at Soldier Field.
With their eighth win in nine games, the Packers (10-4) clinched the NFC North title. The Bears (8-6) have now lost six straight to their arch rivals and five of six this season after a 7-1 start.
"It's tough," said quarterback Jay Cutler. "You don't want to lose a ballgame like that. You don't want to let someone clinch your division on your home field, especially the Packers."
The Bears are in jeopardy of becoming the first NFL team to fail to earn a playoff berth after a 7-1 start since the Redskins in 1996. With Sunday's loss, Chicago slipped behind the Vikings (8-6) in the race for the sixth and final playoff spot.
"There's a lot of disappointment when you lose six straight to your rival," said coach Lovie Smith. "They're the NFC North champs. We have to get to the playoffs a different way, and that's the only thing we can think about right now."
The Bears took a 7-0 lead on Cutler's 15-yard touchdown pass to Brandon Marshall with 8:03 left in the second quarter. But the Packers scored 21 unanswered points, generating three TDs on four possessions to take a commanding 21-7 lead midway through the third quarter.
Cutler completed 12 of 21 passes for 135 yards with one TD, one interception and a 72.5 passer rating while being sacked four times. Since joining the Bears, he's now 1-7 against the Packers.
Cutler's counterpart, Aaron Rodgers, repeatedly bought time in the pocket before hitting wide open receivers over the middle. The reigning NFL MVP completed 23 of 36 passes for 291 yards with three touchdowns—all to receiver James Jones—no interceptions and a 116.8 passer rating.
"He's a great player; an MVP-of-the-league type guy," Smith said. "You know going in what he is, and what type of performance you're going to have to have. You can't let him keep drives going. Third downs were big. You need to get off on third downs and we weren't able to do that."
While the Bears were a porous 0-of-10 on third (0-of-9) and fourth down (0-of-1), the Packers were 9-of-19 on third (7-of-17) and fourth down (2-of-2).
The pivotal play of the game came late in the first half when Cutler's pass intended for Devin Hester was intercepted by cornerback Casey Hayward and returned 24 yards to the Chicago 26.
The Packers converted the Bears' only turnover of the game into Rodgers' eight-yard TD pass to Jones, giving Green Bay a 14-7 lead it would not relinquish with :28 left in the half.
"Normally we win games when we win the turnover ratio," said Smith, whose team generated two takeaways. "But the one turnover that we had right before the half really changed momentum."
Rodgers opened the second half by engineering a 13-play, 79-yard drive capped by a six-yard touchdown pass to Jones, widening the margin to 21-7.
The Bears had a golden opportunity to get into the end zone late in the third quarter. But Matt Forte was stopped for no gain on back-to-back carries from the one-yard line and Alshon Jeffery was penalized for offensive pass interference, wiping out his apparent TD reception.
Olindo Mare, subbing for the injured Robbie Gould, booted a 34-yard field goal to make it 21-10.
The Bears had another great chance to score midway through the fourth quarter when the Packers inexplicably tried some razzle-dazzle on a punt return deep in their own territory. After catching a punt, Randall Cobb threw a lateral across the field to teammate Jeremy Ross, who fumbled the ball.
Anthony Walters recovered at the Green Bay 16. But the Bears failed to gain a yard on three plays and settled for Mare's 34-yard field goal, closing the gap to 21-13.
To earn a wildcard berth, the Bears will have to win their final games of the season in Arizona and in Detroit, and get help from other teams.
"We're down, but we're not out," Cutler said. "We need to remind the guys that there are two games left, and there is a lot of football left. We've got to piece this thing back together, however we do it. We have to find a way to win these next two games and let things fall where they may."