As the Bears prepare for Sunday's must-win game in Detroit, coach Lovie Smith conceded that depth is a concern following injuries to running back Matt Forte and safety Chris Conte.
Both players exited Sunday's 28-13 win in Arizona in the second half, further depleting key positions that had lost valuable backups in recent weeks when running back Michael Bush (ribs) and safety Craig Steltz (chest) were placed on injured reserve.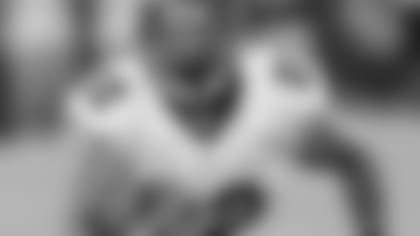 Running back Matt Forte is dealing with an ankle injury as the Bears prepare for their season finale Sunday in Detroit.

Forte suffered an ankle injury after rushing for 88 yards and one touchdown on 12 carries. Replacements Kahlil Bell (13-32) and Armando Allen (5-24) combined to gain 56 yards on 18 carries and could be counted on heavily Sunday in Detroit.

"Depth at running back is a concern," Smith said. "Whenever you have a limited amount of guys this time of year anyway and when you have a player that goes down, it makes you shuffle things."

The Bears are even more shorthanded at safety after Conte pulled his hamstring in Arizona. The only healthy players on the roster at the position are Major Wright and Anthony Walters.

"We lost a few good players here in the last couple weeks in Craig Steltz and Chris Conte pulling his muscle [Sunday]," Smith said. "So we have to adjust. Anthony Walters stepped in [Sunday] and we have a couple other options."

On the mend: The Bears are hopeful that middle linebacker Brian Urlacher (hamstring) and defensive tackle Henry Melton (chest) will be able to return from their injuries to face the Lions.

Asked about Urlacher's status, Smith said: "He's getting better, and that's all I'll say. We're hopeful. You never know. Brian is a quick healer. If he's ready to go, he will. He's made a lot of progress. We have to get to the practice week and see where he is."

Playoff picture: The Bears (9-6) are happy to have a chance to make the playoffs Sunday, but wish they didn't have to rely on help from the Packers.

The Bears will earn the second and final wildcard berth and open the playoffs as the sixth seed in San Francisco or Seattle if they beat the Lions coupled with a Minnesota loss to Green Bay.

"This time of year you want to be in it, you want to be relevant, and we are," Smith said. "We have a chance, and that's all you can hope for. It's not an ideal situation that we're in. But hopefully we can take care of business and just do all we can do.

"Just looking at the history of the league, most of the time when you get 10 wins, you have a chance of getting in, and we're just going to bank on that."

Stepping up: Smith praised the performance of cornerback Zackary Bowman, who has contributed on defense and special teams since rejoining the Bears Oct. 16.

In Sunday's win over the Cardinals, Bowman downed an Adam Podlesh punt at the four-yard line and then returned a Beanie Wells fumble one yard for a touchdown to give the Bears a 7-0 lead.

Bowman played cornerback in Arizona on running downs in place of Tim Jennings, who was eased back into the lineup after missing two games with a shoulder injury.

"[Bowman] has made plays just in general in the positions we've put him in," Smith said. "Even the first time we played Minnesota, Tim took a couple plays off, they went right at him and he made a good play on a deep ball then. Special teams-wise he has made a lot of plays.

"I've been very pleased with what Zack Bowman has done since he's come back."

Bowman played four seasons with the Bears from 2008-11 after arriving as a fifth-round draft pick from Nebraska. He signed a one-year deal with the Vikings as a free agent in March, but was waived before the season opener.