Julius Peppers may be past his prime at 34 years old, but he's still got gas left in the tank.
At least that's the consensus among the Bears players who have watched tape of their former teammate in advance of Sunday's NFC North showdown against the Green Bay Packers.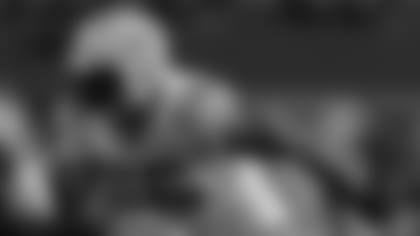 After four seasons with the Bears, Julius Peppers now wears No. 56 for the rival Green Bay Packers.
"He definitely has found new life over there with a change of scenery and a new team and a new defense," said running back Kyle Long. "If you watch him on film, he's still out there making plays. He's still a big guy and he's a force to be reckoned with."

Peppers was released by the Bears March 11 after spending four seasons in Chicago. Less than a week later he signed with his former team's fiercest rival.

Playing outside linebacker with the Packers, Peppers has flashed his playmaking ability in Green Bay's first three games. He broke up a pass after dropping into coverage in a Week 2 win over the Jets and forced and recovered a fumble with a sack of the Lions' Matthew Stafford last Sunday.

"He shows up on tape," said quarterback Jay Cutler. "Every game he's making a few plays here and there, and getting after the passer. He still has got a lot left."

Peppers has seemingly benefitted from being used as part of a rotation.

"They're doing a good job of resting him and then playing him so he's staying fresh," said offensive coordinator Aaron Kromer.

"They have a group of seven to eight guys who can rush the passer, so between their outside linebackers moving to defensive end in the nickel—which he's one of them—and their defensive line, they're rotating guys to keep them fresh. That's where you see the difference; he's not playing every down, so when he comes in he can give it everything."

After Peppers played his first eight NFL seasons with the Carolina Panthers, a return trip to face his former team in his first year with the Bears in 2010 was very important to him. The veteran defensive end responded with a diving interception and four quarterback pressures in a 23-6 win.

Peppers told reporters this week in Green Bay that he's not approaching Sunday's game against the Bears the same way.

"It's not really that big of a deal this time," he said. "It was more of an emotional experience when I went back to Carolina for the first time. This time it's more business. It's more of a business trip."