The Bears defense won't face a more difficult challenge this year than the one they'll encounter Sunday when Aaron Rodgers makes his annual visit to Soldier Field.
The Packers quarterback is having another stellar season, completing 65.1 percent of his passes for 3,529 yards with 32 touchdowns, seven interceptions and a 101.1 passer rating.
"He's probably arguably the best guy at his position in football," said coach John Fox. "He drives defensive coordinators crazy. He probably makes coordinators keep late nights trying to defend him just because he extends plays and he's so accurate and he's so mobile as well."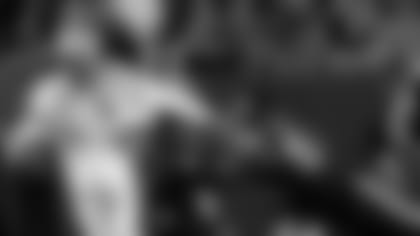 Bears rookie outside linebacker Leonard Floyd pressures Aaron Rodgers Oct. 20 in Green Bay.


Rodgers has won 11 of the last 12 games he has started and finished against the Bears, including the last six at Soldier Field beginning with the 2010 NFC Championship Game. His 38 career touchdown passes against the Bears are the most versus any team.
The two-time NFL MVP has performed exceptionally well in recent weeks, throwing 10 touchdown passes and no interceptions in the Packers' last four games. Rodgers has fueled a three-game winning streak that has led Green Bay (7-6) back into playoff contention.
"He's a complete quarterback," said defensive coordinator Vic Fangio. "He's got a big arm. He's very accurate. He anticipates things well. He's got a quick release. And on top of all the passing talent he has the scrambling and the improvising and the quarterback running just makes it really a complete package."
In a 26-10 loss to the Packers Oct. 20 in Green Bay, the Bears did not allow a touchdown in the first half and took a 10-6 lead early in the third quarter when Leonard Floyd forced and recovered a Rodgers fumble in the end zone for a touchdown.
But the Packers quarterback responded, throwing three short touchdown passes to cap Green Bay's next three drives of 85, 88 and 74 yards.
"You've just got to keep playing against these guys," Fangio said. "He's so good and so confident and he's played in one system his entire career. He knows and they know as coaches how to adjust. They'll either just keep sawing wood at what they've been trying and do it a little better or go to another part of their playbook.
"They play a lot of different personnel groups, so they've got a lot of offense to prepare for and when you're playing a quarterback that's been in that system for so long, none of it is backlogged to him."
Roster moves: The Bears on Wednesday signed cornerback DeVante Bausby and linebacker Josh Shirley to their practice squad.
Bausby returns one day after being waived from the 53-man roster. He has appeared in three games this season, recording 12 tackles. Bausby entered the NFL with the Chiefs in 2015 as an undrafted free agent from Pittsburg State and signed with the Bears late last season.
Shirley entered the NFL with the Raiders last year as an undrafted free agent from UNLV. He registered two tackles and one tackle-for-loss in five games with the Buccaneers as a rookie and has also spent time with the Seahawks.
Bausby and Shirley fill the spots that belonged to tight end Joe Perillom who was placed on injured reserve and linebacker Ronald Powell, who was signed by the Seahawks.