Four days after beating a quarterback who may someday be the best in the NFL, the Bears will face a passer who has played the position better than anyone in league history, at least statistically.
The Packers' Aaron Rodgers will enter Thursday night's NFC North clash at Lambeau Field with an all-time-high 103.9 career passer rating. Rodgers was named NFL MVP last season after completing 68.3 percent of his passes for 4,643 yards with a career-high 45 touchdowns, only six interceptions and a league-record 122.5 passer rating.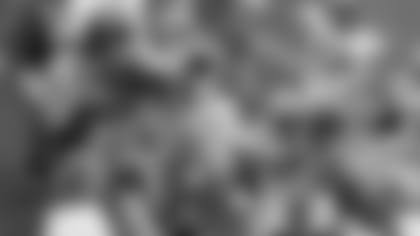 The Bears know the importance of pressuring Aaron Rodgers in Thursday night's game in Green Bay.

After going 6-2 against the Packers in Lovie Smith's first four seasons as coach from 2004-07, the Bears are just 2-6 versus Green Bay since Rodgers replaced Brett Favre as starting quarterback in 2008.

In those eight games, Rodgers has completed 69.7 percent of his passes for 1,976 yards with 15 TDs, five interceptions and a 102.9 passer rating.

The Bears enjoyed moderate success against Rodgers prior to last season, holding him to passer ratings of 87.6, 92.0, 88.9, 92.5 and 89.7 in five meetings from 2008-10. In 2009, Rodgers threw for 184 and 180 yards in two games versus the Bears, his two lowest totals of the season.

"There have been games I know that he probably would pick a few different defenses to go against than our guys," said Bears quarterback Jay Cutler. "They play very sound football. They keep everything in front of them. They gap control. When they drop in coverage they cover up a lot of holes with not a lot of guys."

Rodgers torched the Bears last season, however, passing for 580 yards with eight touchdowns and one interception in leading the Packers to 27-17 and 35-21 victories.

As they prepare for Thursday night's game, the Bears feel the key to containing Rodgers is generating pressure from their front four. They accomplished that in Sunday's season-opening win over the Indianapolis Colts, recording three sacks of rookie No. 1 draft pick Andrew Luck.

"Whenever we are playing our defense and the front four is getting the pressure, it's hard as a quarterback because your clock is speeding up," Cutler said. "You know you have to get rid of the ball. If we can get Pep [Julius Peppers] and Izzy [Israel Idonije] and Henry [Melton] and those guys rolling, the defense should have a good day."

Even though Melton registered two sacks against the Colts from the tackle position, defensive coordinator Rod Marinelli wants to see the line get more push up the middle.

"We rushed pretty hard, but [we need to] just try to control some of the step-up lanes," Marinelli said. "That's really important for us. We let some of them get away from us. We have to tighten some of those things up and just be sound."

The Bears defense generated four takeaways against the Colts and will look to take the ball away Thursday night in Green Bay, though it won't be easy given that Rodgers boasts the lowest interception percentage of any quarterback in NFL history (1.81 percent).

"It's a great challenge," Marinelli said. "They do a great job with ball security and we just have to have the right mindset that we have to get the ball."

The Bears' five interceptions in eight games against Rodgers are the most he's thrown versus any opponent.

"They've always had a good defense," Rodgers said. "They've always been very well coached, had very good personnel and played their defense well. They give most teams fits."

"The Bears run that particular scheme better than anybody," added Packers coach Mike McCarthy. "Just look at their staff, Love and Rod and all the way down. It's an excellent defensive staff and veteran players that clearly understand the scheme."