Bears rookie cornerback Deiondre Hall didn't need to watch tape of Carson Wentz's NFL debut last Sunday to see how well the Eagles quarterback is capable of performing.
Hall was playing cornerback for Northern Iowa last Oct. 10 when Wentz led North Dakota State to a 31-28 comeback win by throwing an 18-yard touchdown pass with :35 remaining. The TD to freshman receiver Darrius Shepherd capped an impressive 10-play, 79-yard drive.
"He took over the game in the two-minute drill and that's what you want your quarterback to do in those situations," Hall said Thursday at Halas Hall. "He made the throws that he needed to make."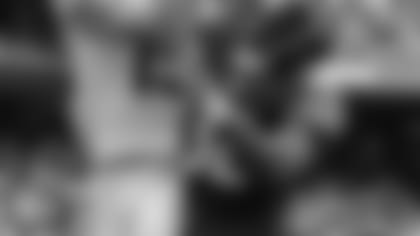 Bears cornerback Deiondre' Hall breaks up a pass intended for Texans wide receiver Will Fuller.


Fast forward nearly a year later and Hall is once again preparing to face his old college adversary on a much bigger stage Monday night when the Bears host the Eagles at Soldier Field.
While Hall was selected by the Bears in the fourth round of the draft with the No. 127 overall pick, Wentz was chosen by the Eagles in the No. 2 spot in the first round.
"Second overall speaks for itself I would say," Hall said. "He reads defenses really well and has a cannon for an arm. He can run the ball as well. He's not one-dimensional. If you pressure him, he's able to run. If not, then he can make that throw."
Wentz missed the Eagles' final three preseason games with a rib injury and entered September as their third-string quarterback. But Philadelphia traded Sam Bradford to the Vikings Sept. 3 after Minnesota lost Teddy Bridgewater to a season-ending knee injury and named Wentz the starter two days later, promoting him ahead of Chase Daniel. Wentz reportedly was goose hunting when he learned the news via a phone call from first-year head coach Doug Pederson.
Wentz made an impressive NFL debut last Sunday, completing 22 of 37 passes for 278 yards with two touchdowns, no interceptions and a 101.0 passer rating in leading the Eagles to a 29-10 win over the Cleveland Browns in Philadelphia.
"The guy can make all the throws," said Bears coach John Fox. "He's big, athletic, strong-armed. He made a couple of good throws on some play-action. There was a pretty good go route during the game. All in all, a pretty good first outing."
The Eagles traded up to take Wentz, dealing the No. 8 pick in the first round as well as selections in the first round in 2017 and second round in 2018 to the Browns in exchange for the No. 2 pick as well as Cleveland's fourth-round choice next year.
The Eagles recouped two picks by trading Bradford to the Vikings for a 2017 first-round choice and a 2018 conditional selection.
"[Wentz] is pretty damn impressive," said Bears defensive coordinator Vic Fangio. "It looks now that Philadelphia is going to be very well-rewarded for the risk they took on draft day giving up a lot of stuff to get this guy because he looks like he's going to be a long-term hell of a quarterback.
"And then they got Christmas given to them when the Vikings had their [misfortune] and they were able to unload their overload at quarterback for a couple picks. So they took a chance, they did a hell of a job with it and I think they're going to be rewarded with it.
"The guy is very impressive. He has a big arm, can move, he's athletic and mobile. He's very poised, doesn't get flustered. He's very comfortable running their offense even though he only played a little bit in the preseason. Obviously the work they've done with him, their coaching staff through the OTAs and training camp, was time very well spent. He's been a quick study and learns well."
The Bears hope to continue a positive trend when they face Wentz Monday night; they're 9-1 against rookie quarterbacks at Soldier Field since 2001, with their only loss coming to the Seahawks' Russell Wilson in 2012. But it certainly won't be easy.
"[Wentz] has great poise for a young guy, great footwork and he wouldn't be a quarterback in this league if he didn't have a good arm," said Bears defensive end Akiem Hicks. "We look forward to playing that type of competition."