GREEN BAY, Wis. – Given little chance to upset the Packers Monday night at Lambeau Field, the Bears knocked Aaron Rodgers out of the game early and eventually sent their arch rivals tumbling to the canvas.
In what turned out to be a battle of backup quarterbacks, Josh McCown helped turn a 20-17 third-quarter deficit into a stirring 27-20 victory that enabled the Bears (5-3) to forge a three-way tie atop the NFC North with the Packers (5-3) and Lions (5-3).
On the game's opening drive, Rodgers injured his left shoulder when he was sacked from behind by Shea McClellin. Rodgers was replaced by Seneca Wallace, who completed 11 of 19 passes for 114 yards with no touchdowns, one interception and a 53.4 passer rating.
[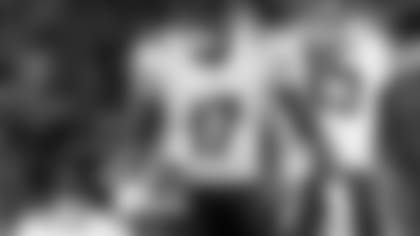 ](/multimedia/photo-gallery/Bears-at-Packers/7d365be6-0822-4fd9-b051-13f2b3eed540)
Josh McCown connected with Alshon Jeffery for a six-yard touchdown in the third quarter. Click to view photos from the game.
Making his first start since the 2011 season finale in place of the injured Jay Cutler, McCown connected on 22 of 41 passes for 271 yards with two TDs, no interceptions and a 90.7 rating. Brandon Marshall caught seven passes for 107 yards and 1 TD, while Matt Forte rushed for 125 yards and one touchdown on 24 carries and caught five passes for 54 yards.
The Bears' beleaguered defensive ends, who had produced just 2.5 sacks in the first seven games of the season, combined for five sacks Monday night. McClellin recorded three sacks, Julius Peppers had an interception and one sack and Corey Wootton added one sack.
The Packers turned a 17-10 halftime deficit into a 20-17 lead without letting the Bears offense on the field. After Eddie Lacy's 56-yard run set up his one-yard touchdown, Green Bay recovered a surprise onside kick and converted it into Mason Crosby's 23-yard field goal.
McCown answered by rifling a 6-yard touchdown pass in the right corner of the end zone to Alshon Jeffery, who snared the ball over cornerback Davon House to give the Bears a 24-20 lead with 2:41 left in the third quarter.
The Bears later orchestrated what may have been their most impressive drive of the season. Taking over at their own 11 with 9:48 left in the fourth quarter, they burned 8:58 off the clock by marching 80 yards on 18 plays before Robbie Gould's 23-yard field goal widened the margin to 27-20 with just :50 to play.
Facing fourth-and-one from their own 32, the Bears opted to keep their offense on the field and Forte gained three yards on a sweep to the left. McCown later completed an 11-yard pass to Marshall on third-and-six and Forte rushed for eight yards on third-and-five.
"It was big to keep running the ball and keep converting on third down, keep running the clock down," said Forte, who rushed for over 100 yards for the first time this season.
Wootton and McClellin iced the win with back-to-back sacks of Wallace on the game's final two plays, enabling the Bears to snap a six-game losing streak against the Packers and win for the first time at Lambeau Field since 2007.
"It took me six years," said Forte, who joined the Bears in 2008. "I hadn't beaten them [in Green Bay] since I got here, so it was a great accomplishment by us as a team and we're looking forward to building on this."
In ending the Packers' 10-game winning streak at Lambeau Field, the Bears overcame a porous run defense and poor special teams play.
They were gashed for 199 yards on 29 rushes, with Lacy gaining 150 yards on 22 attempts. In addition to the onside kick, the Packers blocked an Adam Podlesh punt, setting up James Starks' 32-yard run, which gave Green Bay a 10-7 lead late in the first quarter.