ARLINGTON, Texas - The Bears dominated on both sides of the ball Monday night in Dallas, grabbing a share of first place in the NFC North with an impressive 34-18 rout of the Cowboys.
The Chicago defense intercepted five Tony Romo passes, returning two for touchdowns, while Jay Cutler threw for 275 yards with two touchdowns and no interceptions. Cutler's 140.1 passer rating was the third highest of his career and exactly 80 points better than Romo (60.1).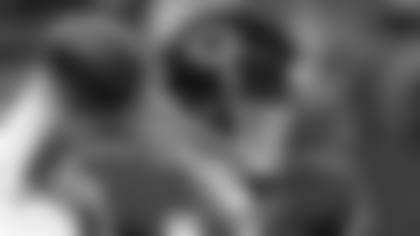 Jay Cutler threw for 275 yards and  two touchdowns Monday night in Dallas.
With their second straight victory, the Bears (3-1) tied the surprising Minnesota Vikings (3-1) atop the division, ahead of the Green Bay Packers (2-2) and Detroit Lions (1-3).
"To finish up the first quarter [of the season] at 3-1 was a goal that we just had to get accomplished," said coach Lovie Smith. "I know it's always hard when you go on the road, especially playing a team like the Cowboys. But our guys came out ready to play."
After Charles Tillman returned an interception 25 yards for a touchdown to give the Bears a 10-0 lead with 2:38 left in the second quarter, the Cowboys answered on Romo's 10-yard TD pass to Miles Austin, drawing Dallas to within 10-7 with :14 remaining in the half.
The Bears responded with big plays on offense and defense, opening the second half by outscoring the Cowboys 24-3 to take a 34-10 lead. Cutler's touchdown passes of 34 yards to Devin Hester and 31 yards to Brandon Marshall sandwiched Lance Briggs' 74-yard interception return TD.
Marshall caught seven passes for a season-high 138 yards. Running back Matt Forte tweaked his sore ankle on his first carry but returned to the game, rushing for 52 yards on 13 carries.
After winning the coin toss and deferring until the second half, the Bears opened the third quarter with a five-play, 73-yard touchdown drive, widening the margin to 17-7 on Cutler's scoring pass to Hester. Cutler completed 4 of 4 passes for 71 yards on the possession.
"On the road you want to have an opportunity first to try to get the crowd out of it in the first half," Smith said about the decision to defer. "You want the ball there [to start] the second half, but you have to answer. And that drive really kind of set the tempo for the second half for us."
After the Cowboys marched to the Bears' 16, the Bears defense asserted itself by intercepting passes on back-to-back plays. First, safety Major Wright picked off a Romo pass at the Chicago 6 after it deflected high into the air off receiver Kevin Ogletree.
One play after Cutler lost a fumble on a sack by DeMarcus Ware, Romo tried to flip the ball over the middle to avoid a sack by Henry Melton. But the pass went directly to Briggs, who returned it 74 yards for a TD, increasing the Bears' lead to 24-7 midway through the third quarter.
"Any defensive touchdown is key," Smith said. "But that was right after a turnover. You normally don't see linebackers running interceptions back that far. In order to do that you have to have some good blocking, which he did. Lance Briggs is a Pro Bowl player, arguably the best outside linebacker around. So it's not like we haven't seen him make plays like that."
After David Bailey's 39-yard field goal made it 24-10, Robbie Gould answered with a 21-yarder early in the fourth quarter to widen the margin to 27-10.
The Bears put an exclamation point on the victory as Cutler connected with a wide-open Marshall for a TD and Wright recorded his second interception of the game, sending Romo to the bench.
"The offensive line played extremely well from start to finish," Cutler said. "We ran the ball well. When the defense is playing like that, it's hard to lose."
Former Bears quarterback Kyle Orton threw a 5-yard touchdown pass to tight end Jason Witten and a two-point conversion pass to receiver Dez Bryant to make it 34-18 with :34 remaining.
But by then, Cowboys Stadium had already been echoing with chants of "let's go Bears" that emanated from delighted Bears fans who represented their team in enemy territory.
"We travel well," Smith said. "There's nothing like hearing the 'let's go Bears' chant early and throughout the game. I thought our fans were outstanding. The Chicago Bears colors were all around, they really were. I'm glad we were able to give our loyal fans that type of effort."