Losing starting quarterback Jay Cutler for at least four weeks with a torn groin muscle is a big blow, but the Bears have faith in backup Josh McCown's ability to step in and operate the offense.
McCown excelled in relief in Sunday's 45-41 loss to the Redskins, completing 14 of 20 passes for 204 yards with one touchdown and a 119.6 passer rating after Cutler exited in the second quarter.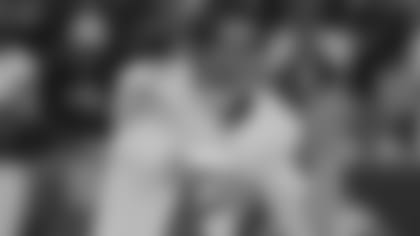 Josh McCown kept the Bears in Sunday's shootout in Washington by engineering four scoring drives in the second half.
"All the confidence in the world," said left tackle Jermon Bushrod. "[McCown] came in and did his thing. He spread the ball around, he got us in good position, and we had a chance to win the game.

"You always want your guy out there. You know how competitive of a person [Cutler] is. You just feel sorry that he has to deal with it. But at the end of the day, Josh has been in the league for a long time. He's played a lot of games. He has a lot of experience. So we're excited about the opportunity."

McCown produced points on four straight drives in the second half Sunday, leading the offense to three touchdowns and a field goal after Robbie Gould had missed a 34-yard field goal attempt.

McCown's 7-yard TD pass to Martellus Bennett gave the Bears a 41-38 lead with 3:57 remaining in the game, two plays after an apparent 9-yard touchdown pass to Earl Bennett was nullified by an illegal formation penalty.

"We're confident that Josh can come in and run the team, and why would anybody say 'why not' after Sunday?" said coach Marc Trestman. "The guys have confidence that he can take control of the huddle and move the football team."

An 11-year NFL veteran, McCown is in his third season with the Bears. Each of the past two years, he joined the team in November after Cutler suffered an injury. On both occasions, McCown arrived after coaching the Marvin Ridge High School football team in North Carolina.

Having been with the Bears since the first day Trestman installed his offense in April, McCown feels more prepared to step in and contribute than he did in previous seasons.

"Two years ago I got here and I had been coaching high school ball, which served me well to do that," McCown said. "But I don't think you can trade anything for real reps, going through OTAs and training camp. With that said, I'm in a better spot right now. To have come in here with this system, being here from Day 1 with Marc, learning this from the ground up, I think it's been beneficial. Hopefully it continues to pay dividends on the field."

Prior to Sunday, the last time McCown had played in a regular-season game was late in the 2011 season. Appearing in three contests with two starts, he completed 35 of 55 passes for 414 yards with two TDs, four interceptions and a 68.3 passer rating. He threw for 242 yards and one touchdown in a loss to the Packers and 160 yards and one TD in a win over the Vikings.

Prior to joining the Bears, McCown started 31 of 47 games played in eight NFL seasons with the Cardinals (2002-05), Lions (2006), Raiders (2007) and Panthers (2009), completing 57.7 percent of his passes for 6,584 yards with 35 touchdowns, 40 interceptions and a 71.3 passer rating.

As he prepares to take over for Cutler, McCown knows that it won't be easy. But he's confident that Trestman's quarterback-friendly system will help him and the rest of the unit succeed.

"Jay is a heck of a player," McCown said. "He was playing at a really high level. I don't know if you're ever ready to handle losing your starting quarterback. But I think the structure is in place and the emphasis has been put on individuals to do their job and do their part.

"If we continue to get that, and we felt like we got that [Sunday], it allows the quarterback to step in there-whether it's Jay or myself-to function and play because guys are going to be coached to be where they are supposed to be and do what they're supposed to do.

"It's going to look different between Jay and me. Our skill sets are different. Every guy in America wishes he could throw the ball like Jay Cutler. He has big-play capabilities because of his arm and the things that he does and just as a leader too. So the bar was set high by Jay.

"I'm thankful to get the opportunity to be here. You never want it under these circumstances, but to be able to step in for him, I respect the heck out of him and it's an honor to play in his place. Hopefully I can keep us going and keep us in a good position so that when he does come back we're in the hunt and making a run."