Armed with their highest draft pick in 45 years, the Bears will have a unique opportunity to land an impact player when the first round is conducted Thursday night.
Finishing 3-13 last season earned the Bears the third overall selection, their highest since 1972 when they chose Southern Illinois tackle Lionel Antoine at No. 3. Their previous high pick came in 1965 when they selected Hall of Fame middle linebacker Dick Butkus out of Illinois.
"It's an exciting time of the year, no doubt," general manager Ryan Pace said Wednesday at his annual pre-draft press conference. "There's a buzz throughout Halas Hall right now; you can feel it walking around. It's really a huge opportunity for us to immediately get better, improve our team, take advantage of where we're picking."
Pace reiterated that the Bears will not reach for a player at a need position.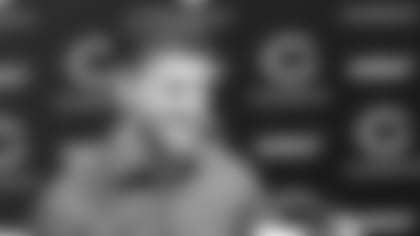 Bears general manager Ryan Pace spoke to the media Wednesday at Halas Hall.


"I know this sounds generic when I say this, but I think you get yourself into trouble if you're not sticking with our philosophy of best player available," he said. "When you start trying to manufacture things or create things, that's when teams get into dangerous water. I think if we just stay with guys we have a consensus on and best player available we'll be in good shape."
Pace acknowledged that the Bears could trade the No. 3 pick. He made four deals during last year's draft, moving up from No. 11 to No. 9 in the first round to take outside linebacker Leonard Floyd, trading down twice in the second round before picking offensive lineman Cody Whitehair and dealing up in the fourth round to choose linebacker Nick Kwiatkoski.
"Everything's on the table, and I think that just gives us flexibility," Pace said. "People always ask, 'Have you received calls [about possible trades]?' That's going on a lot right now with every team and that's not unusual. Even after the first round, it'll go on for our fourth pick in the second round. That's just part of what we're doing. Sometimes it's teams just fishing, feeling their way. Sometimes there are serious questions."
The Bears will enter the draft prepared to pick a player at No. 3 or at any other point in the first round in the event of a trade.
"We have three names right now that we like," Pace said. "But we [also] have a cloud of names in the middle of the first round and a cloud of names in the later part of the first round. So as scenarios present themselves, you can prepare: 'If we go back mid-first round, here's the group of players we're talking about that we like, that we think realistically will be there. If we go back later in the first round, here's another group of players we realistically think will be there.' It's just kind of going over those scenarios right now."
It's unclear what the Browns and 49ers will do with the two picks ahead of the Bears. Most analysts expect Cleveland to take Texas A&M outside linebacker Myles Garrett at No. 1, but San Francisco is more of an unknown, especially with a new general manager in John Lynch.
"We've just got to have three players we like and be prepared," Pace said. "It's unpredictable to know what teams are going to do. This time of year there's all kinds of stuff out there."
The Bears have seven picks in the draft; their own in Rounds 1 (3), 2 (36), 3 (67), 4 (111), 5 (147) and 7 (221) and an additional fourth-round choice (117) they acquired last year from the Bills in trading down for Whitehair. They sent their sixth-round pick to the Texans in exchange for tight end Khari Lee at the start of the 2015 season.
Pace's first two drafts as Bears general manager have produced five players who have been voted to the NFL All-Rookie Team: Nose tackle Eddie Goldman and safety Adrian Amos in 2015 and Floyd, Whitehair and running back Jordan Howard last year.
"Every draft is critical," Pace said. "We've said that since we got here. The blueprint of building this team is through the draft. They're all critical, and if we string a bunch of really good drafts together, we'll be in good shape."