PHOENIX – The Bears have been busy this offseason, bolstering their roster and creating flexibility in the draft by signing 11 unrestricted free agents from other NFL teams.
"Honestly, we had a lot of needs and by spreading it out like this it's kind of the shotgun approach I like to take sometimes instead of putting all of your eggs in just one basket," general manager Ryan Pace said Tuesday at the NFL owners meetings in Phoenix.
"I kind of like what we've done and there are different qualities I like with each one of these guys. As a free-agent class in general, I really like the makeup and the character and the intelligence and the intangibles of the class."
One position the Bears have retooled since the start of the new league year has been cornerback with the signings of veterans Prince Amukamara and Marcus Cooper.
Amukamara, 27, has appeared in 69 NFL games with 57 starts over six seasons with the Giants (2011-15) and Jaguars (2016), registering 310 tackles, seven interceptions, 49 pass breakups, seven tackles-for-loss, three forced fumbles and two fumble recoveries.
"He's just kind of that veteran, savvy consistent pro," Pace said. "Sometimes there is a lot of hidden production from him because he's got his guy covered and they just don't throw at him. So you might not see a lot of interceptions, but I think he's got his guy covered and they're going in a different direction a lot of times."
Cooper, 27, has played in 53 NFL games with 24 starts over four seasons with the Chiefs (2013-15) and Cardinals (2016), recording 130 tackles, seven interceptions, 32 pass breakups, one forced fumble and one fumble recovery.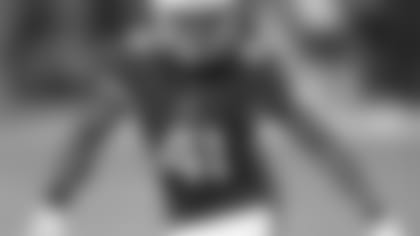 Cornerback Marcus Cooper had a career-high four interceptions last year for the Cardinals.


Cooper switched from wide receiver to cornerback his final year at Rutgers and was still inexperienced at the position when the 49ers selected him in the seventh round of the 2013 draft. He failed to make San Francisco's 53-man roster but was claimed by Kansas City.
"Cooper is a raw player that I think is still ascending," Pace said. "He didn't play corner until late in college and when you watch him each year he's gotten better and better the more he's gotten opportunities. He has really natural ball skills. It's very easy for him to make a play on the ball.
"He has a great ability when he is playing off to read the quarterback but still have vision on the receiver. Some guys can't do that. He can do that and he can time his breaks up well. He makes a lot of plays on the ball."
"[Amukamara and Cooper] are both really intelligent football players, too, that can anticipate route concepts and think of things pre-snap that can help because we're pretty young on defense. That kind of experience is invaluable."
When Cooper was drafted by the 49ers, Bears defensive coordinator Vic Fangio and defensive backs coach Ed Donatell worked in the same positions with San Francisco. Asked what the two coaches told Pace about Cooper, the general manager said: "Just his professionalism and his work ethic and his mindset, and then the fact that he's still going to be an ascending player. They feel like the arrow is still up on him based on his history."
The Bears are hopeful that Cooper will help them generate more takeaways than the all-time franchise-low 11 they mustered last season. To that end, Pace revealed Tuesday that the club may give cornerback Deiondre' Hall, a 2016 fourth-round draft pick from Northern Iowa, some reps at safety.
"We've talked about that with Deiondre' playing some safety," Pace said. "He did it in college. One of Deiondre's best traits is his ball skills, his ball clock, the ability to time the pass breakup. He's very natural at playing safety and that's one of the reasons we drafted him, because he has the versatility to do both. That's something we're going to talk about this offseason and he could start taking some reps there in the offseason program."