The Bears broke camp in Bourbonnais Sunday, but they didn't stay home very long.
After practicing at Halas Hall Tuesday, the team headed to Indianapolis to join the Colts for workouts Wednesday and Thursday and a preseason game Saturday night.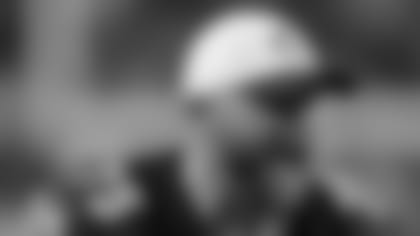 Kyle Long and the Bears will conduct two joint practices with the Colts this week.
"It's important to see other people, the styles of play," said coach John Fox. "They're a playoff team from a year ago and I know their staff pretty well; they're good guys and look forward to it being competitive and yet civil."
The two practices will be held at the Colts' training facility in Indianapolis and will not be open to the public. The preseason game will begin at 6:30 p.m. (CT) at Lucas Oil Stadium.
"It'll be really nice to go down to Indianapolis," said right guard Kyle Long. "They're a playoff team. They have the model for what it is to be successful in this league.
"It'll be a good idea to see how they practice and how they go about their business and also get an opportunity to see some other guys in a practice setting. That'll be a really good experience for a lot of the younger guys and for all of us."
After three weeks of training camp—capped by a physical and chippy practice Sunday—Fox feels this is the perfect time for his players to work against another NFL team.
"I think at this point they get kind of get tired of beating on each other," Fox said. "We've been doing it all offseason as well as training camp. It's been my experience that guys like it. We did it a year ago in Denver [with the Texans] and it's something that I think will kind of grow more and more as we move forward."
Fox is aware that joint practices between two NFL teams often degenerate into skirmishes—and even all-out brawls as was the case recently with the Redskins and Texans.
"One of the things you learn through experience is we're only going two days instead of three days," Fox said. "That third day things get a little chippy, so I think part of the planning is looking at that third day."
Long isn't expecting any trouble between the teams.
"It's going to be a very controlled environment," Long said. "Things aren't going to be allowed to go off the handle very often, and I think Indianapolis has a tremendous coaching staff and a roster that won't let it happen like that, and same with us.
"We get tired of hitting each other, especially when you're in minicamp and training camp for so long, so we're excited to hit some guys with horseshoes on their helmets."
Receiver Alshon Jeffery sat out practice Tuesday due to a calf injury and is expected to remain sidelined through Saturday night's game.
"We won't rush it," Fox said. "If there's a miraculous recovery, like all plans they change."
Safety Ryan Mundy (hip) and running back Daniel Thomas (knee) were limited in practice Tuesday. Tight end Chris Pantale (illness) sat out and is the only player who's not traveling with the team to Indianapolis.