More than 100 members of the Bears organization traveled to Washington, Ill., Friday to help the community's recovery efforts following the devastating tornadoes that ripped through the area last November.
The group included George H. McCaskey, Patrick McCaskey, Brian McCaskey, the Bears' rookie class and staff from Rust-Oleum Corporation.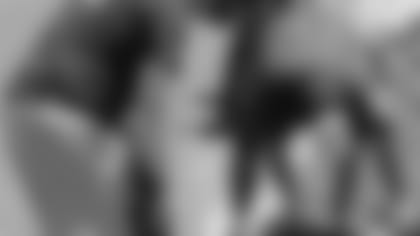 The Bears organization returned to Washington en masse to help with tornado recovery efforts.
The Bears volunteers participated in a flag raising ceremony at the Washington Town Square with Mayor Gary Manier, Congressman Aaron Schock and Washington residents.
Following the ceremony, the group traveled to Bethany Community Church, where they took part in volunteer orientation and safety training. The volunteers then dispersed to different locations throughout the city of Washington to assist with debris removal and other projects. The group focused on raking debris from homeowner properties, clearing rubble from the streets and providing other clean-up assistance for residents and the community.
The Chicago Bears and Bears Care, the charitable arm of the Chicago Bears, provided support to Central Illinois shortly after the tornadoes struck last November through hands-on volunteerism, a monetary donation and personal visits.  
While progress has been made, much work needs to be done before many families can begin rebuilding their homes. This volunteer initiative not only provided hands-on assistance, but it will also help create awareness and highlight the fact that the need for support is still great.  
Rust-Oleum, new partner of the Chicago Bears, had its Rust-Oleum truck filled with primers, paint, stains and aerosols in Washington to assist the community.  
The volunteer effort was coordinated in partnership with the American Red Cross and Bethany Community Church. For more information on helping the Washington community, please email volunteer@bethanycommunitychurch.org or call the volunteer hotline at (309) 573-2670.