Less than 24 hours after being named Bears head coach, Marc Trestman filled a key position on his staff by hiring Aaron Kromer as offensive coordinator and offensive line coach.
An NFL assistant since 2001, Kromer spent the past five seasons with the Saints, coaching running backs in 2008 before working with the offensive line/running game from 2009-12.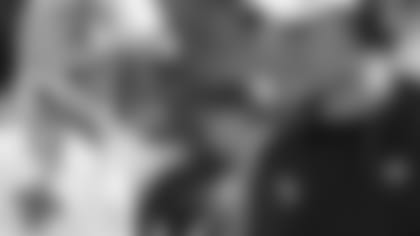 New Bears offensive coordinator Aaron Kromer chats with Saints QB Drew Brees.
This season Kromer filled in as the Saints' interim head coach for the first six games while Sean Payton and Joe Vitt were both serving suspensions imposed by the NFL.

In Kromer's four seasons tutoring the offensive line, New Orleans sent five linemen to a combined nine Pro Bowls and tied for the fewest sacks allowed in the NFL with 96. The all-stars included tackles Jermon Bushrod (2012) and Jon Stinchcomb (2010), guards Jahri Evans (2010-13) and Carl Nicks (2011-12) and center Jonathan Goodwin (2010).

This season the Saints ranked second in the NFL in total yards with 410.9 per game and third in scoring with 28.8 points. They also permitted only 26 sacks, tied for the third fewest in the league.

In 2011, the Saints set NFL records with 7,474 total yards (467.1 per game) and 5,347 passing yards (334.2) while ranking second in scoring (34.2 points) and tied for second with 24 sacks.

The Saints won their first Super Bowl in Kromer's first season with the team in 2008, leading the NFL in total offense (403.8 yards) and scoring (31.9 points).

Kromer entered the NFL with the Raiders, first as assistant offensive line coach in 2001 and then offensive line coach from 2002-04. From 2001-03, Kromer worked on the same staff as Trestman, including in 2002 when Oakland led the league in total offense and reached the Super Bowl.

Kromer spent three seasons as an offensive assistant with the Buccaneers from 2005-07 before joining the Saints.

Kromer played offensive tackle for three seasons at Miami University in Ohio from 1987-89 before starting his coaching career at his alma mater from 1990-98. He then served as Northwestern's offensive line coach in 1999-2000 before entering the NFL.