Washburn, 39, has spent the past 15 years in the NFL, most recently as an assistant offensive line coach with the Dolphins in 2016. Under his tutelage, the line helped running back Jay Ajayi rush for 1,272 yards—the third most in franchise history—including three straight 200-yard games.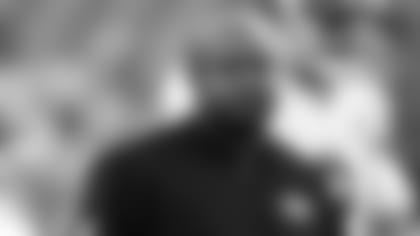 New Bears running backs coach Curtis Modkins has 22 years of coaching experience.


Washburn worked for the Lions the previous seven seasons, first as an offensive assistant from 2009-12 and later as offensive line coach from 2013-15. He entered the league in 2002 with the Panthers as a football operations assistant and worked with the Ravens as a player personnel assistant in 2003-04 and later as an area scout from 2005-08.
Washburn began his coaching career as a graduate assistant at his alma mater, Arkansas, in 2000-01 when Bears offensive coordinator Dowell Loggains was a backup quarterback with the Razorbacks. Washburn replaces Dave Magazu, who spent the past two seasons with the Bears.
Modkins, 46, has 22 years of coaching experience, including the last nine in the NFL. He spent the 2016 season as 49ers offensive coordinator, his second stint in that role after serving in the same capacity with the Bills from 2010-12.
In all three of his seasons in Buffalo, quarterback Ryan Fitzpatrick passed for at least 3,000 yards and 15 TDs and Stevie Johnson compiled at least 76 receptions and 1,000 yards.
Modkins has also served as a running backs coach with the Chiefs (2008), Cardinals (2009) and Lions (2013-15), working with Washburn in Detroit. Modkins was previously a position coach in college at his alma mater, TCU (1996-97), New Mexico (1998-2001) and Georgia Tech (2002-07).
Modkins replaces Stan Drayton, who left the Bears after two seasons to become an associate head coach, running backs coach and run-game coordinator at the University of Texas.
Anderson, 37, served as safeties coach with the Colts (2012-15) and 49ers (2016). He spent the previous seven seasons with the Ravens as a player personnel assistant (2005-07), coaching assistant (2008), defensive assistant (2009) and defensive assistant in the secondary (2010-11). Anderson replaces Sam Garnes, who spent the past two seasons with the Bears.
One opening remains on Fox's staff as outside linebackers coach Clint Hurtt's contract was not renewed.