The Bears on Thursday filled the only two vacancies on Marc Trestman's staff by hiring Paul Pasqualoni as defensive line coach and Reggie Herring as linebackers coach.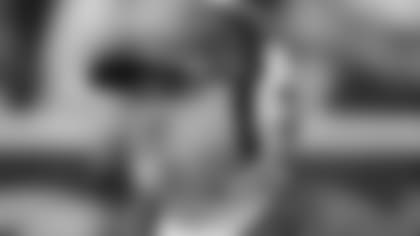 Reggie Herring
Pasqualoni, 64, is a long-time college coach who has six years of NFL experience. He served as Dolphins defensive coordinator in 2008-09 and was promoted by the Cowboys from defensive line coach to defensive coordinator midway through the 2010 season after Wade Phillips was fired.
Pasqualoni served as Syracuse's head coach from 1991-2004, compiling a 107-59-1 record and winning four Big East titles.
Seven of the players Pasqualoni coached at Syracuse were selected in the first round of the NFL Draft: Quarterback Donovan McNabb, receiver Marvin Harrison, defensive end Dwight Freeney, linebacker Keith Bulluck, and safeties Donovin Darius, Tebucky Jones and Will Allen.
Pasqualoni entered the NFL as a position coach with the Cowboys, working with tight ends (2005) and linebackers (2006-07).
He spent the last three seasons as head coach at the University of Connecticut, where he amassed a 10-18 mark.
Herring, 54, joins the Bears after spending the last six seasons as a linebackers coach with the Cowboys (2008-10) and Texans (2011-13). He also had a prior stint as linebackers coach with the Texans in 2002-03.
In 2011, Herring helped Brian Cushing earn second-team All-Pro honors after leading the team with 114 tackles. That season, Connor Barwin moved from defensive end to outside linebacker and tied for third in the AFC with a team-high 11.5 sacks.
During Herring's three seasons as Cowboys linebackers coach, DeMarcus Ware led the NFL with 46.5 sacks. Ware led the NFL with 20 sacks in 2008, the second most by a linebacker in a single season behind only Lawrence Taylor's 20.5 for the Giants in 1986.
Herring also has 24 years of experience as a college assistant at Oklahoma State (1982-85), Auburn (1986-91), TCU (1992-93), Clemson (1994-2001), North Carolina State (2004) and Arkansas (2005-07).
Pasqualoni and Herring both worked on the same Cowboys staff as Bears special teams coordinator Joe DeCamillis and running backs coach Skip Peete in 2010, while Herring served on the same Texans staff as Bears defensive backs coach Jon Hoke in 2002-03.
The Bears announced Jan. 12 that defensive line coach Mike Phair and linebackers coach Tim Tibesar would not return in 2014. Decimated by injuries, the defense struggled mightily in 2013,  allowing the most points (478), total yards (6,313) and rushing yards (2,583) in franchise history.
"We do not attribute our lack of success on defense to two individuals," Trestman said at the time. "We need to improve in all areas defensively and that will be a focal point for us this offseason."