The Bears continued their draft preparations Friday by hosting a workout for about 50 local prospects in the Walter Payton Center. NFL rules stipulate that only players who attended high school and/or college in the Chicago area are eligible to participate.
The prospects met with the team's medical staff before stepping on the field, where they warmed up, stretched and spent about 45 minutes doing position drills with Bears assistants.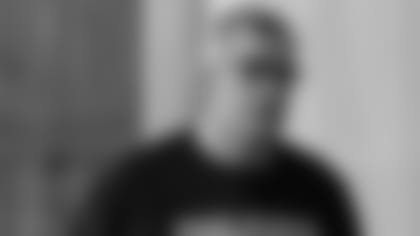 Bears general manager Phil Emery watches local draft prospects work out Friday.
"This is valuable to us because we get a chance to evaluate more players and get them in front of our coaches," said Bears director of college scouting Marty Barrett. "Our coaches get to see them athletically and interact with them, so that's a positive for us."

In addition to the assistants, others who attended Friday's workout included general manager Phil Emery, head coach Marc Trestman and members of the personnel department.

The Bears did not have the prospects run the 40-yard dash or conduct other timed tests.

"Most of these players have all had one or two opportunities to either go to a regional combine and/or their own pro day, so we really focus on their position drills," Barrett said.

Chicago area prospects who have attended the workout at Halas Hall in past years include quarterback Donovan McNabb, offensive lineman Ryan Diem and receiver Justin McCareins.

Three current Bears participated in the workout the year they entered the draft: cornerback Kelvin Hayden in 2005, safety Tom Zbikowski in 2008 and quarterback Matt Blanchard in 2012.

Last year the Bears signed three players as undrafted free agents after they had attended the workout: Blanchard, receiver Terriun Crump and tight end Brandon Venson.

"It was helpful for me," Hayden recalled this week. "It got me comfortable for other workouts that I had and gave me some familiarity with what was going to happen."