The Bears honored cornerback Charles Tillman for winning the 2013 Walter Payton NFL Man of the Year Award with a celebration Thursday afternoon in the Halas Hall dining facility.
Bears owner Virginia McCaskey, chairman George H. McCaskey and team president and CEO Ted Phillips were among those on hand to congratulate Tillman.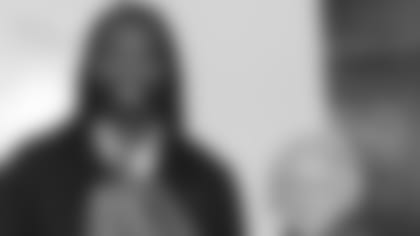 NFL Man of the Year Charles Tillman poses with Bears owner Virginia McCaskey at Halas Hall.
The prestigious Man of the Year Award is the only league honor that recognizes a player's community service as well as his playing excellence. Tillman received the award from NFL commissioner Roger Goodell Feb. 1 during the NFL Honors awards show in New York.
Since being selected by the Bears in the second round of the 2003 draft, Tillman has become one of the best defensive players in franchise history. A two-time Pro Bowl cornerback, he owns Bears career records with nine defensive touchdowns, eight interception return TDs and 675 interception return yards. His 36 interceptions are the most by a cornerback in franchise history and third most overall behind safeties Gary Fencik (38) and Richie Petitbon (37).
Since entering the NFL, Tillman is the league's only player with at least 30 interceptions and 30 forced fumbles. During that span he is second in forced fumbles, tied for fifth in interceptions, fifth in interception return yards and tied for second in interception return TDs.
Off the field, Tillman's contributions are equally impressive. Since he created the Cornerstone Foundation in 2005, his efforts have impacted over one million Chicago-area children and raised more than $1 million.
The foundation began by providing children with educational opportunities and resources to excel in the classroom. But after Tillman's three-month-old daughter, Tiana, was diagnosed with dilated cardiomyopathy and received a life-saving heart transplant in 2008, the Cornerstone Foundation changed its mission to improving the lives of critically and chronically ill children.
The Cornerstone Foundation's programs include "Charles' Locker," "Field of Dreams," "Holiday Celebration," "Mother's Champagne Brunch" and "The Tiana Fund."
Charles' Locker provides pediatric hospital patients with access to iPads, laptops, gaming systems and other kinds of entertainment to help pass the time during their hospital stays and annually reaches more than 370,000 children.  
The Tiana Fund has distributed more than $1 million to over 300 families who have been identified by local organizations as at-risk or in-need. The support is provided to families and individuals to strengthen their ability to care for themselves, enhance their stability and security, and improve their quality of life.  
Tillman and his wife, Jackie, also contribute their time and resources to local, national and international organizations outside of the Cornerstone Foundation. The Tillmans have helped build a school in Cambodia, sponsored children through the Urban Promise program in Camden, New Jersey, and have purchased and donated over 700 tickets to Bears home games since 2008 through the Bears Home Team Hand-Off program.  
Tillman is also an avid supporter of the military and has participated in a USO tour to Iraq, volunteered with the USO of Illinois on Thanksgiving to serve meals to local troops, and provided soldiers with tickets to games at Soldier Field during the 2013 season.  
By winning the award, Tillman will receive a $25,000 donation in addition to the $1,000 he was given for being named the Bears' nominee. The veteran cornerback was one of three finalists in 2011 and has been the Bears' nominee five of the last seven years.