After a pair of rough outings in losses to the Packers and Cardinals, the Bears hope to see second-year cornerback Kyle Fuller revert to the form he showed early last season as a rookie.
The 14th overall pick in the 2014 draft intercepted three passes in the first three games last year, helping the Bears get off to a 2-1 start. But Fuller has struggled early in the 2015 season.
"He just needs to play better," said defensive coordinator Vic Fangio. "I know that's a vanilla answer, but execute his assignment and technique correctly and the plays will come to him. Until he does that, he'll struggle a little bit. But he's capable and hopefully he'll start doing that."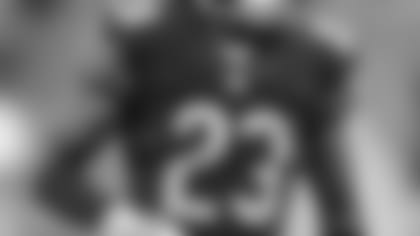 Kyle Fuller was the 14th overall pick in the 2014 draft.
Fuller drew pass-interference penalties of 34 yards against the Packers and 42 yards versus the Cardinals that both led to touchdowns and he also got beat for an 8-yard TD reception by Arizona receiver Larry Fitzgerald.
"I think ultimately it's just playing with confidence," Fangio said. "It's just like Tiger Woods these past two years hasn't been the Tiger Woods we know and everybody's over-analyzing him. The fact is that he hasn't been able to take his game from the range to the course and he's not been playing with confidence.
"Kyle's got to be able to take his game from the practice field to the game field and play with confidence. You're not going to have confidence until you do good things. You can't just say I'm whoever I am and go out there and play. You've got to have results."
Health update: Quarterback Jay Cutler (hamstring), receivers Alshon Jeffery (hamstring) and Eddie Royal (back/hip) and linebacker Jonathan Bostic (ankle) did not practice Wednesday.
The Bears have not yet ruled Cutler out of Sunday's game in Seattle.
"We're taking it day-to-day," said coach John Fox. "We'll see what tomorrow brings. We don't rule anybody out for games until Friday."
Asked about media reports that Cutler is likely to miss two weeks, Fox said: "I don't know how they would know when we don't."
Running back Kyle Long (knee), receiver Marquess Wilson (shoulder), left guard Matt Slauson (thigh/toe), defensive lineman Ego Ferguson (knee), outside linebacker Pernell McPhee (knee) and cornerback Tracy Porter (hamstring) were limited.
Porter practiced for the first time since hurting his hamstring in an Aug. 29 preseason loss in Cincinnati.
"Our medical people have done a good job," Fox said. "To get him back on the field, he looked pretty good today. He took some limited reps. We'll see how he reacts to that this afternoon and overnight and see what he's able to do tomorrow. Any time you get your guys back on the field, it's helpful."
Holdout ends: Seahawks safety Kam Chancellor ended a lengthy holdout Wednesday, though it's unclear whether the three-time Pro Bowler will play against the Bears Sunday.
Fox said that Chancellor's return doesn't really change how the Bears will prepare for the game.
"There are a lot of guys on our staff that have experience playing against them and obviously know what his strengths are," Fox said. "How fast they implement him, we'll kind of track that throughout the week. We'll be prepared whoever they play."
Winning earlier: The Bears and Raiders are the only two NFL teams without a sack two weeks into the season. Fangio believes the key to an improved pass rush is winning one-on-one matchups immediately after the snap.
"They have to finish, but they have to be in a move and have some success early in the down that they have a chance to finish," he said. "Pass rush is usually won or lost very early in the down, so if you gain an advantage very early in the down you have a chance to finish.
"If you're getting blocked early, it's harder to finish because the O-lineman or whoever is blocking you is stuck on you and in your way. So we've got to be able to win earlier and get some rush that way."