Bears cornerback Charles Tillman returned to practice on a limited basis Friday and was listed as questionable for Sunday's game in Detroit, meaning there's a 50 percent chance he'll play.
"He worked today," said coach Marc Trestman. "Looked good. We'll see how he feels tomorrow. I would still have to say he's questionable, but we're reasonably optimistic that he'll be playing."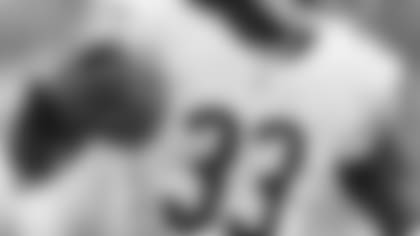 Charles Tillman has been voted to the Pro Bowl each of the last two seasons.
Tillman sat out practice Wednesday and Thursday with groin and knee injuries. Last week he only practiced on a limited basis Friday, was listed as questionable and then started Sunday night's win over the Steelers, though he exited early for precautionary reasons.
"He'll work out the next couple of days and continue to get treatment," Trestman said. "But like I said, I'm optimistic. I was last week and I am again that he'll be ready to go.
"It's all up to trainers and to the doctors. If the doctors and the trainers say he's ready to go, then he's ready to go. I won't be making this decision. It will be made by the doctors and trainers with Charles' best interests at heart."
The only other Bears players on the injury report are also cornerbacks: Sherrick McManis (quad) is doubtful, while Zack Bowman (knee) is probable. If Tillman is unable to play, Bowman would start in his place opposite Tim Jennings.
Roster moves: The Bears on Friday officially placed defensive tackle Henry Melton on injured reserve with a torn ACL and signed defensive tackle Landon Cohen.
Cohen has appeared in 27 games with five starts in five NFL seasons with the Lions (2008-09), Jaguars (2010), Patriots (2010-11) and Cowboys (2013), recording 32 tackles. The 6-3, 300-pounder has also spent time with the Seahawks, Cardinals and Eagles.
Cohen played for Bears defensive coordinator Mel Tucker with the Jaguars and was part of a similar scheme under Rod Marinelli with the Lions and Cowboys. This season the Ohio product played 38 snaps in the first two games for Dallas, recording one tackle.
Melton was injured early in the fourth quarter of last Sunday night's win over the Steelers when his left leg buckled while he was being blocked by Pittsburgh guard David DeCastro.
Zach attack: While Nate Collins is expected to start in place of Melton Sunday in Detroit, undrafted rookie Zach Minter could make his NFL debut as part of the defensive tackle rotation.
"That's unfortunate because Henry is a good guy," Minter said. "He's definitely a great player. No one is going to do what he does out there. But when the opportunity presents itself, it's our job to take advantage, but also step up and play like he's not missing. It's up to us to keep the momentum going, keep the pass rush up and get after the football."
A year ago this week, Minter was helping Montana State beat Southern Utah 24-17 before 8,417 fans. Asked if he ever takes a step back to reflect on how far he's come, Minter said: "I think you have to because this is the National Football League. Not everybody gets a chance to play here."
Inside job: Another option to help overcome Melton's loss is moving end Corey Wootton inside for more snaps. Wootton already has lined up at tackle in some pass-rushing situations.
"He's an explosive guy and he's extremely agile," Trestman said. "He can bend and get low. We've had him inside down at training camp. We had a plan to move people around at training camp for unfortunate situations that happen. So it's certainly a possibility he could see some work."
Wootton will be ready to play inside if called upon.
"I've been preparing for that most of the offseason and training camp just in case," he said. "I've been rushing some inside. Now I might get some [reps] in base in case we need it."